ABOUT CENTRAL SPECTRUM
Central Spectrum (M) Sdn. Bhd. (CSSB) is a Malaysian property development company headquartered in Pulau Indah, Selangor.
ORIGINS & BACKGROUND
Establish in 1994, CSSB is renowned for its success in developing Pulau Indah. It is a member of Kumpulan Darul Ehsan Bhd (KDEB) with its shareholders;
Kumpulan Hartanah Selangor Bhd (KHSB) and Detik Jalur Sdn Bhd, each holding 76.67% and 23.33% respectively. Led by Yang Berbahagia Dato' Mahmud Abbas as a Chief Executive Officer, CSSB aspires to develop Pulau Indah into a progressive and modern island featuring countless opportunities for business and living.
Pulau Indah Industrial Park (PIIP) and Selangor Halal Hub are the two most prominent projects developed and managed by CSSB in 22 years of its operation. It had also developed Laguna Park; a landed residential project and Indah Point; shop offices. Moving forward, the company will start on its Selangor Bio Bay project which is a master-planned and integrated smart city development featuring a biotechnology theme.
VISION & MISSION
OUR VISION
To be a sustainable and competitive property developer contributing to the growth of state of Selangor.
OUR MISSION
To build and deliver our products timely and efficiently with no compromise on quality.
To conduct our operation prudently with the profit which will ensure ultimate success.
To contribute to the economic growth of the society and function as a good corporate citizen.
To share the global obligation for the protection of the environment.
To establish strategic alliances in the industry for mutual benefits.
To provide a job and career for every personnel hired by the company in a very conducive working environment and recognise human resources as the most important asset.
BOARD OF DIRECTORS
Y.M. RAJA DATO' IDRIS RAJA KAMARUDIN
Chairman / Director
YBHG. DATO'AZLAN HASHIM
Director
YB. DATO' NOORDIN SULAIMAN
Director
SOFFAN AFFENDI AMINUDIN
Director
MANAGEMENT TEAM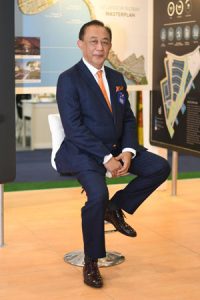 YBHG. DATO' MAHMUD ABBAS
Managing Director
Yang Berbahagia Dato' Hj. Mahmud Bin Dato' Dr. Hj. Abbas, holds a BSc in Building from Brighton University and is a Member of the Chartered Institute of Building UK. He is a Sloan Fellow of the London Business School. Mahmud Abbas has worked in Lend Lease, PERNAS, Tabung Haji and prior to taking up the position of Chief Executive, he was the Project Director (Central Region) at UEM Land Bhd. In 2015 Mahmud Abbas has won the OIC Award, Muslim World Prestigious Award 2015 at 6th Muslim World Biz.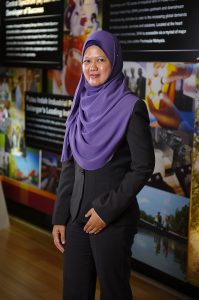 RUZITA 
MOHD TAIB
Senior General Manager
Finance and Corporate Affairs
As a Senior General Manager of Finance and Corporate Affairs, Ruzita Mohd Taib is responsible for the accounting, finance and corporate matters at Central Spectrum Sdn.Bhd. She hold a Master Degree in Business Administration (Finance and Investment) from International Islamic University and Bachelor Degree in Business Administration (Accounting) from University of Louisville, Kentucky, United States. She has over 20 years of accounting and financial management experience in property development and healthcare industry. She was previously attached with various subsidiaries of Faber Group Berhad in member of finance and management position.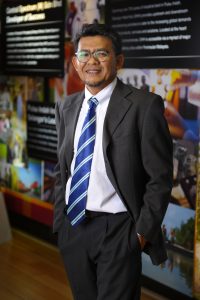 MOHAMAD RAZIF
ABDUL WAHAB
Senior General Manager
Sales and Marketing
Mohamad Razif Abdul Wahab was appointed as the Senior General Manager, Sales & Marketing of CSSB in November 2012. He is a graduate of London Business School's (LBS) Senior Executive Programme and a member of the Institute of Marketing Malaysia (IMM). With almost 30 years working experience in the property industry, he was a part of several known and public listed companies such as MK Land Holdings, Land & General Bhd, Guthrie Property Development Bhd, Sime Darby Bhd and UEM Land Bhd. Prior to joining CSSB, he was the General Manager of Premier Plus Consultancy (M) Sdn Bhd, a property marketing solutions company based in Johor Bahru.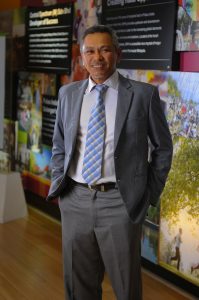 NOOR AZHURIL
ADNAN
General Manager
Development
Noor Azhuril bin Adnan, holds a, BSc (Hons) in Construction Management from University of Westminster, London, United Kingdom and Diploma in Building from Institute Technology MARA, Shah Alam. He has worked with UEM Land Bhd., TH-Negeri Sembilan Technology Corridor (ENSTEK), Techart Technology Sdn. Bhd., Tabung Haji – Pilcon JV and Gopeng Berhad Construction. Currently he is the Head of Development.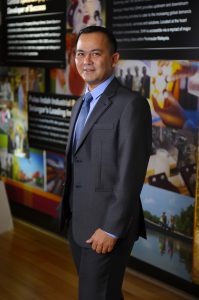 MOHD NOOR HISHAM
MOHAMAD
General Manager
Selangor Bio Bay
Mohd Noor Hisham B. Mohamad is the General Manager of Selangor Bio Bay Project. He started his career with a well-known town planning consultant; AJM Planning & Urban Design Group back in 1995. He then decided to pursue a career in property development through a string of established property developer such as Maju Holding Berhad and Berjaya Land Berhad. His experience includes exposure to both local and international property development projects. He is a graduate from University Technology Mara (UiTM) with Bachelor in Town & Regional Planning.