3.47 Acres Wakaf Land for
Orphanage in Pulau Indah
ABOUT THE PROJECT
Central Spectrum (M) Sdn. Bhd. a member of Menteri Besar Selangor (Incorporated), Yayasan Islam Darul Ehsan and Perbadanan Wakaf Selangor signed a Memorandum of Understanding for the "Wakaf" of 3.477 acres of land for the establishment of the "Kompleks Asrama Anak Yatim Pulau Indah". Central Spectrum will also be the project coordinator until the completion of development. The collaboration between the three institutions were inspired by the shared purpose to give back to the community of Selangor.
Valued at RM10 million in total, Central Spectrum will be extending a contribution of RM5 million while the remaining half of the development cost will be funded by the "Tabung Wakaf Kompleks Asrama Anak Yatim Pulau Indah" through means of donations, contributions by corporate bodies and the public.
Chief Executive Officer of Central Spectrum (M) Sdn. Bhd., En. Mohamad Razif Abdul Wahab, was joined by the Acting Chief Executive Officer of Yayasan Islam Darul Ehsan, En. Nur Mohd Razali Bin Abdullah and the Deputy Chief Executive Officer of Perbadanan Wakaf Selangor, En. Anuar Hamzah Bin Tohar in the signing of the triparty MoU document. His Royal Highness Raja Muda Selangor, Tengku Amir Shah Ibni Sultan Sharafuddin Idris Shah Alhaj graced the momentous event to launch the newly founded Tabung Wakaf Kompleks Asrama Anak Yatim Pulau Indah.

INTRODUCTION
The orphanage building complex to consist of two main hostel blocks separating male and female orphanage, a laundry room, a study room, a fitness space and much more.
Moreover, there will be an additional facility building that host a dining hall, management office and multipurpose rooms for the convenience of the orphanages and residence.
A sports center is also built to encourage healthy living amongst the resident of the orphanage complex. The sports center will include three badminton courts and one volleyball cum futsal court.
The public is welcome to utilize some of the facilities within the complex such as the multipurpose hall, the surau and a commercial center.
"TABUNG WAKAF KOMPLEKS ASRAMA ANAK YATIM PULAU INDAH"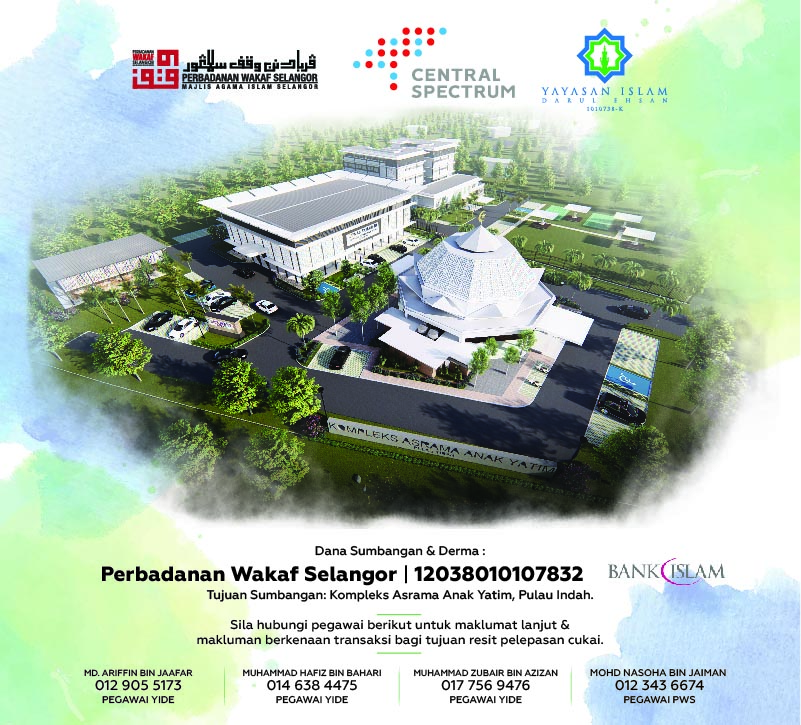 GALLERY