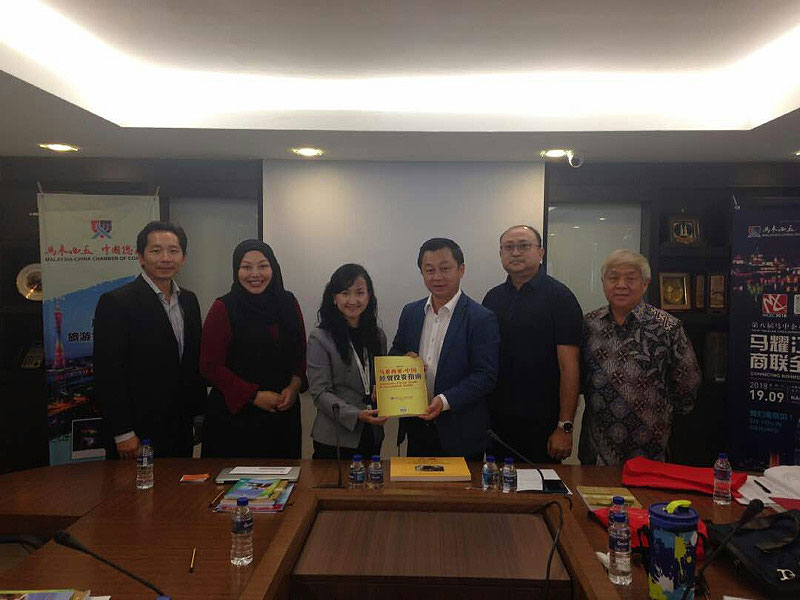 CSSB strengthen the rapport with MCCC
A delegation from Central Spectrum Sdn. Bhd. paid a courtesy visit to the Malaysia-China Chamber of Commerce on 26th June 2018. The visiting delegation were welcomed by senior management members of the MCCC: First Vice President, Chairman of Branches Liaison Committee, Mr. Loo Kok Seong; Deputy Treasurer, Deputy Chairman of Financial Affairs Committee, Mr. Yong Cher Vee; Deputy Secretary-General, Deputy Chairman of General Affairs Committee, Mr. Hew Kit; Managing Director of Eco Clean Technology Sdn. Bhd., Mr. Yale Wong Y.L, Mr. Jackie Chee Kok Ping and Mdm Chiew Mui Kheng.
The visit aims to connect CSSB with MCCC that is a renowned association with the largest number of Chinese entrepreneurs from China. A meeting was held with the officials of MCCC to promote the company and its offerings with an emphasis on Selangor Bio Bay while securing support from the organisation for CSSB's participation in the 8th Malaysia-China Entrepreneur Conference (MCEC) at Nanjing, China this September.
Backed by endorsements from Malaysia's government agencies such as MITI and Ministry of Finance, MCEC is a flagship event organised by MCCC promote the bilateral trade through the vital guidelines by experts from the relevant fields. The participating entrepreneurs are geared towards exploring the business opportunities plying the Silk Road Economic Belt and Modern Maritime Silk Road with the most effective strategies.
After the meeting, CSSB representatives also attended the launch of MCEC 2018 at MATRADE on 3 July 2018.