PHOTOGRAPHY CONTEST
Call for entries!
THE CONTEST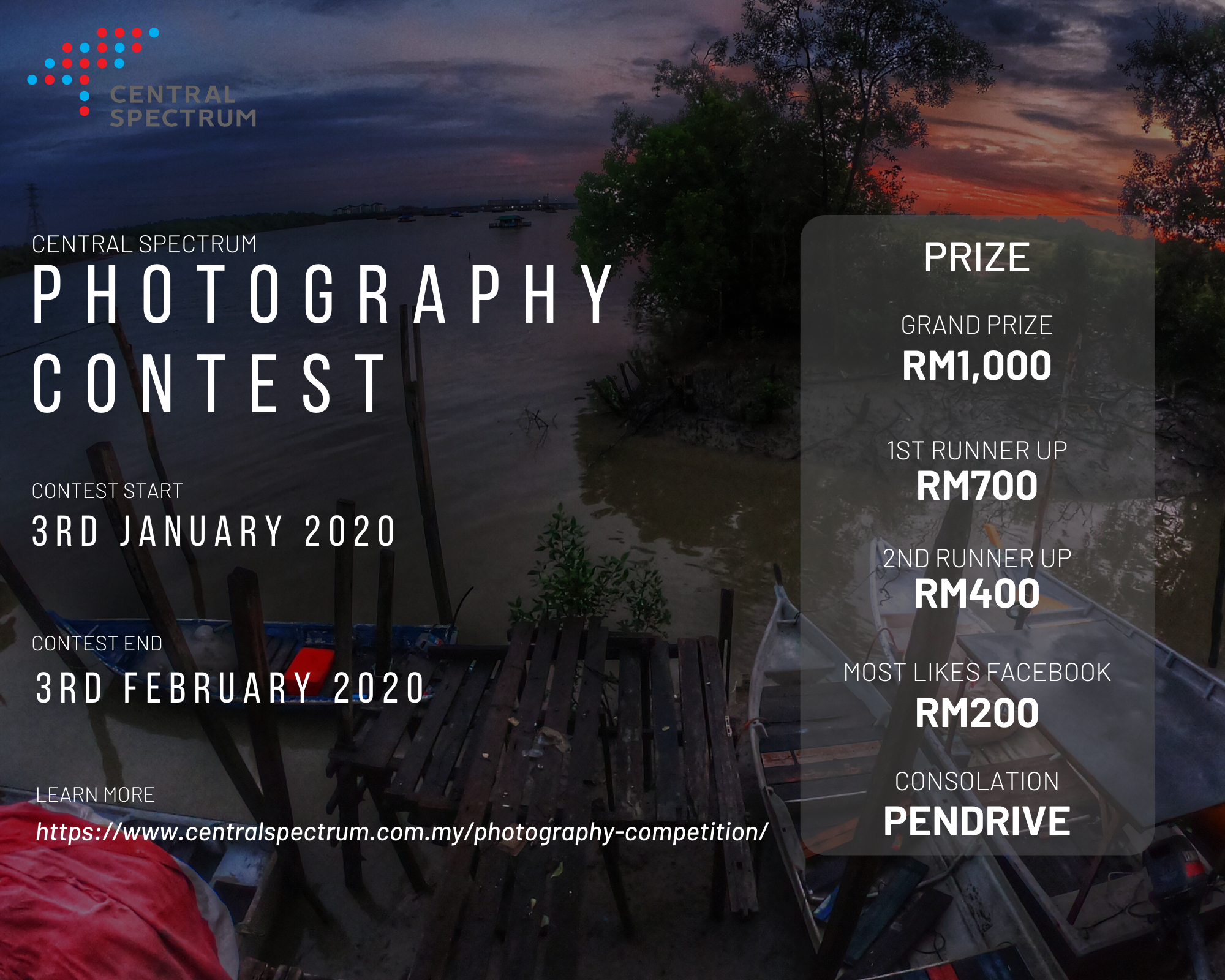 Central Spectrum Sdn Bhd (CSSB) seeks the submission of photographic works that explore the beauty of Pulau Indah from dusk to dawn – from the perspective of Eco-Tourism, Lifestyle, Hobby, Health & Work.
Categories
Eco-Tourism – Ecotourism is commonly defined as a responsible travel that conserves the environment naturally, maintains the well-being of the community, and encompasses education. (i.e.) Pantai Acheh, Rumah Kampung and etc.
Lifestyle – A way of living of individuals, families and societies, whereby related to coping with their physical, psychological, social, and economic environments on daily basis. (i.e.) San Francisco Coffee, Perkampungan Orang Asli, Restaurant and etc.
Hobby – A hobby is an activity that people do during leisure time for pleasure. (i.e.) Fishing and etc.
Health – a state of complete mental, physical, and social well-being without the presence of disease or infirmity. (i.e.) Sports activity and etc.
Work – an activity such as a job which requires physical or mental effort to earn money mainly for living. (i.e.) Building Office, Warehouse, and etc
Prizes
For Open
| | |
| --- | --- |
| Grand Prize | RM1000 |
| 1st Runner Up | RM700 |
| 2nd Runner Up | RM400 |
| Most Like Facebook | RM200 |
| Consolation | Pendrive |
For Staff
| | |
| --- | --- |
| Grand Prize | RM300 |
| 2nd Place | RM200 |
| 3rd Place | RM100 |
| Most Like Facebook | RM100 |
Image Submission Formatting
Submissions are accepted as digital files through our online submission form. Please prepare your files as follows:
File Format. No restrictions in file format. However, photos submitted must be in original file with all EXIF data retained.
Image Size. Images must be in high resolution. Minimum size must be 1024 pixels or less on longest side. Images must be minimum of 4 MB (megabytes) and maximum of 16 MB (megabytes).
File Name. Name image file as follows: ImageTitle_by_FullName. Example: MyPhoto_by_NatashaJidin.jpg
Send your entries to centralspectrumcssb@gmail.com
Copy Right & Usage Rights
Participant retains all copyrights to their own images. Participants whose photographs are accepted must grant CSSB the nonexclusive right to use and reproduce submitted photographs for the purpose of promoting the exhibition, promoting the participant, promoting related programs and subsequent display on CSSB's websites, social media and online exhibition archives. The participant's name and photo title will be included wherever the photographs are displayed.
Terms & Conditions
Free entry only to Malaysians who have reached 18 years old.
Photos must be personally captured by the participants.
All submitted photos must contain no border(s), logo(s), copyright marks, identifying marks, or any other visible references and/or marks on the image.
Photos that portray or otherwise include inappropriate and/or offensive content, including provocative nudity, violence, human rights and/or environmental violation, and/or any other contents deemed to be contrary to the law, religious, cultural & moral traditions and practices of Malaysia, are strictly prohibited and will be immediately discarded. A participant who submits any such photos may be permanently banned from participating in any future contests.
Submissions will not be accepted once the deadline lapses.
Photos must be sent via email only.
The participant is deemed the copyright owner of the photo. The organizer shall not be held responsible for any copyright issue of the photo entries.
The organiser will handle all the images with caution. However, if there is any inevitable damage of the images, the organiser shall not be held responsible.
By participating in this contest, participants agree to be bound by the rules and regulations.