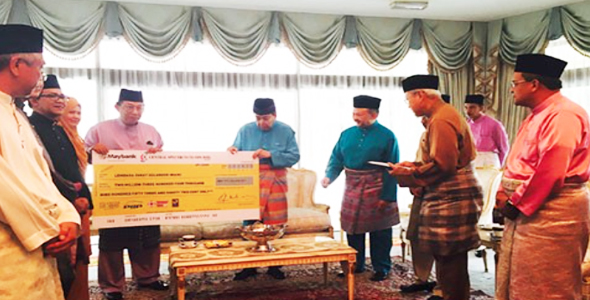 Central Spectrum (M) Sdn Bhd pay RM2.3 million in Zakat
The Sultan of Selangor, DYMM Sultan Sharafuddin Idris Shah, received on behalf of Lembaga Zakat Selangor (LZS) the business tithe of RM2.3 million from property developer of Pulau Indah, Central Spectrum (M) Sdn Bhd (CSSB). The Zakat payment was made on 11 November 2016 at Istana Bukit Kayangan. CSSB is represented by Chief Executive Officer, Mahmud Abbas.
Also presented at the event were Mufti of Selangor, Datuk Mohd Tamyes Abdul Wahid, Selangor Islamic Affairs Council chairman, Datuk Mohamad Adzib Mohd Isa, Lembaga Zakat Selangor (LZS) Chairman, Tan Sri Syed Anwar Tuanku Syed Putra Jamalullail and LZS Chief Executive Officer, Hussin Mohd Ali.
This contribution is expected to instill to the spirit of helping one another. CSSB will continuously contribute in providing assistance to the needy and giving back to the communities, especially to those who are less fortunate.