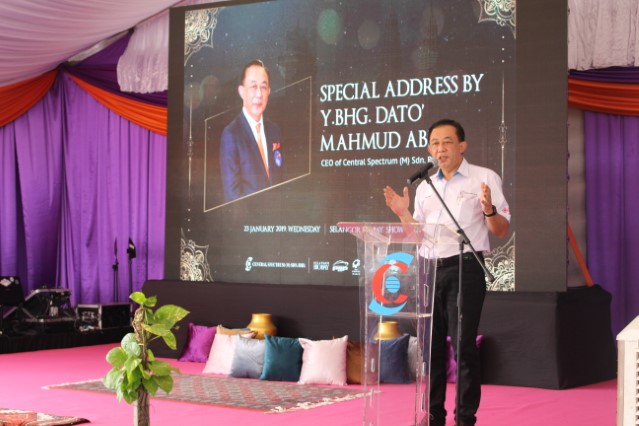 Farewell Dato' Mahmud Abbas
On the 23rd of January 2019, we took the opportunity to bid farewell to former Managing Director cum Chief Executive Officer of Central Spectrum, Dato Mahmud Abbas for his exemplary service during his tenure and to wish him well for his new endeavor in Saudi Arabia.
The sumptuous luncheon was held at the Selangor Bio Bay Show Gallery, to appreciate Dato' Mahmud Abbas's efforts and contribution towards transforming CSSB into a sustainable and competitive property developer that is contributing to the growth of Selangor.
At the same time, we took the opportunity to show our gratitude and strengthen our business rapport with CSSB's stakeholders, board of directors, business partners as well as local authorities for their support and commitment in ensuring the success of our project developments namely the Pulau Indah Industrial Park (PIIP), Selangor Halal Hub (SHH) and Selangor Bio Bay (SBB).
During the lunch, Dato' Mahmud Abbas delivered a heartfelt speech where he shared his recollection of his first day reporting for duty at Central Spectrum, challenges he faced and the principles, namely integrity, upon which he firmly stood his ground to weather all kinds of storms.
Guests were treated to a carefully put-together montage of highlights from Dato' Mahmud Abbas's career in Central Spectrum as well as poignant messages from various state leaders.
The VIP guest of the day was Dato Menteri Besar of Selangor, Tuan Amirudin Shari who had an enjoyable afternoon socializing with other guests, namely avid golfers from government agencies, contractors, consultants, authorities and existing purchasers in Pulau Indah.
Dato' Mahmud Abbas has since reported for duty as CEO of Knowledge Economic City in the city of Medina, Saudi Arabia.