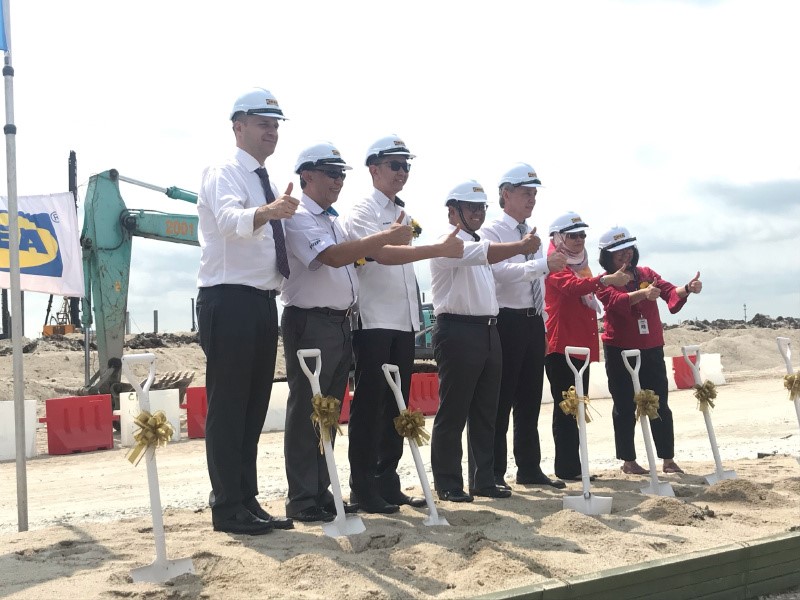 Pulau Indah Home to IKEA's RM900mil Distribution Centre
The highly anticipated groundbreaking ceremony of IKEA Distribution Centre (DC) was carried out on January 29th, 2019 at the IKEA project site in Phase 3C of the Pulau Indah Industrial Park (PIIP) in Klang, Selangor.
Officiated by Dato' Menteri Besar, Amirudin Shari and witnessed by officials from the state government, Central Spectrum and IKEA Supply (Malaysia); the ceremony was a much-awaited milestone following the signing of the Sales and Purchase Agreement (S&P) in Basel, Switzerland on the 24th of August, 2017. The S&P agreement estimated at RM1 billion was signed by IKEA Supply AG, Central Spectrum and witnessed by the then Menteri Besar of Selangor, Dato' Seri Mohamed Azmin Ali who is now the Minister of Economic Affairs.
At the groundbreaking ceremony, the Managing Director of IKEA Supply Malaysia, Lee Bee Chin, said that the "distribution centre will help reach out to more customers in Southeast Asia and India." IKEA Supply was established in May 2017 as the wholesaler responsible for the construction, and will in future facilitate the DC's operations.
IKEA in a statement announced that work on the distribution centre has already commenced and that it is expected to open in September 2020, supplying Southeast Asia and India with the home furnishings that customers love.
IKEA's Distribution Centre in Pulau Indah is the biggest regional distribution centre in the Asia Pacific. The 95,000-square metre centre will have an estimated storage capacity of 192,800 cubic metres. Selangor is the best location for the DC not only because of its proximity to all stores in the Southeast Asian region but also for its well-developed infrastructure and the availability of labour resources, IKEA added in the statement.
The third largest in the world, after IKEA Chicago in the US and IKEA Dusseldorf in Germany, this new DC in Pulau Indah will utilise its integrated information and communications technology systems and automation to push its overall growth strategy in the region. According to Menteri Besar of Selangor, Amirudin Shari, the DC will offer at least 300 job opportunities for skilled manpower.
This mark yet another milestone for Central Spectrum in attracting the global furnishing giant, IKEA to invest in Pulau Indah as a testament to the quality of infrastructure and resources available at the PIIP.