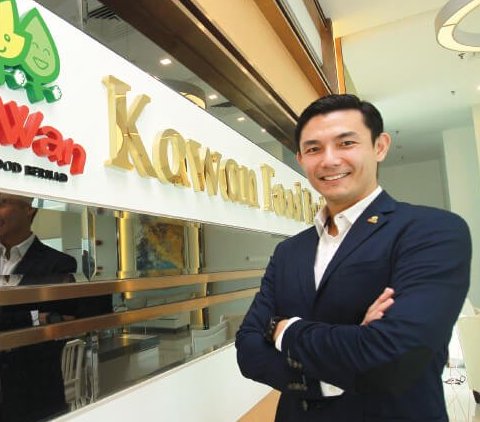 Kawan Food: World Industry Pioneer Now Based in Pulau Indah
Kawan Food Berhad, is not only the first in the world to automate paratha and chapati production but it is also the first in Malaysia to build a factory with the largest frozen warehouse that uses the Automated Storage and Retrieval System (ASRS). Since July 2018, Kawan Food Berhad has been operating at its RM200 million Pulau Indah facility that has triple the production capacity of its older factories.
According to Managing Director, Timothy Tan, a lot of thought was put into the planning and construction of the facility. The focus was to ensure that the facility was as sustainable as possible by using resources efficiently and effectively. Features such as the transparent roof, saves electricity as no artificial lights are needed during the day and rainwater harvesting is used to wash the trenches without having to waste copious amounts of water otherwise. The company is also looking at ways to leverage on solar power to reduce taxing the grid as well as employing more energy-efficient ways to cool down servers and machinery.
"The facility in Pulau Indah has enabled us to consolidate two factories into one where purchasing, planning and deliveries are all done under one roof, enabling us to utilize our resources more efficiently."
Kawan Food, clearly is not one to follow the pack but rather a leader that is attuned to the needs of the market and the planet, realizing that profits would follow when those needs are met.
Concerned that obesity and diabetes is on the rise in Malaysia and elsewhere in the world, Tan said the company took a step towards formulating healthier flatbreads for the health-conscious consumer.
Collaborating with Holista CollTech, Kawan Food Berhad created an innovative range of healthy low-glycaemic index (GI) chapatis and parathas. Apart from lower GI, this new range will also have lower fat content yet taste and texture remain uncompromised. Holista Colltech estimates an additional revenue of Aussie dollar 4 million this year for the company through this joint partnership with Kawan Food Berhad.
According to Tan, while FY2019 has generally been good for the company, it is not without challenges. "Brexit, Sino-American Trade War have impacted the company but we are pushing hard. For 2020 we are looking at new products and developing new channels in existing markets."
Frozen paratha and chapati contribute 60% to the total revenue of Kawan Food while the remaining 40% is derived from tortilla wraps, spring roll pastry, glutinous rice balls and a variety of other popular products.
The stars are no doubt Kawan's paratha and chapati which are a staple in many households for its taste, convenience and flexibility. These two products alone command a large international following and exports account for 61% of total revenue with the balance coming from the Malaysian market.
Apart from traditional retail methods, the company has also diversified on to an e-commerce platform www.kawanfood.my to ensure consumers and wholesalers have the convenience of ordering online and having it delivered to their doorstep.
Currently, Kawan Food's biggest export market is the US, contributing 44% to the total export revenue. To date, Kawan Food exports to 38 countries worldwide including Singapore, India and Australia.