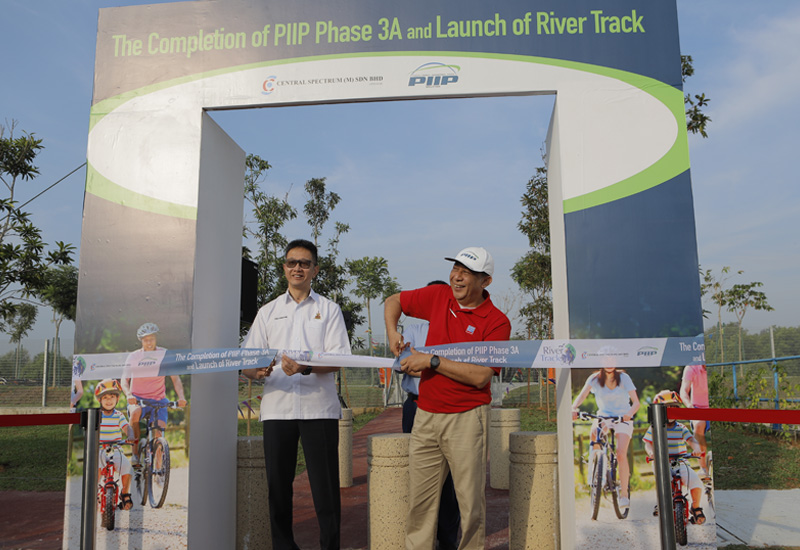 Single Day, Triple celebrations – A Milestone by Itself
Central Spectrum (M) Sdn Bhd (CSSB) created its very own history on Tuesday, 6 March 2018. The triple celebrations held at two different locations in a day were to mark the completion of Pulau Indah Industrial Park Phase 3A (PIIP 3A) project, the River Track Cycle Park and the Chinese New Year celebration.
The event started at PIIP 3A with the launching of River Track Cycle Park by the Honourable YB Dato' Teng Chang Khim, Senior Executive Councilor of the State Government of Selangor and CSSB's Managing Director, Dato' Mahmud Abbas at 8.30 am. The completed River Track Cycle Park consists of 20KM cycling journey developed on the riverbank of Sungai Chandong Besar, Pulau Indah. It offers a unique and interesting cycling experience with a high-quality track and nature preservation along the riverbank. The development shows the commitment of CSSB to be the first developer that provides integrated cycling facilities within the industrial park development.
Guests present at the launching site were the existing purchasers of PIIP 3A lots and representatives from local and relevant authorities.
The next event was held at the newly built Selangor Bio Bay (SBB) Show Gallery. The new SBB show gallery created a new level of interest to all of our guests, including a group of teachers and students from SMK Pulau Indah. Here, all guests were in jovial mood as we were celebrating the Chinese New Year.
The Selangor Bio Bay project is aiming to promote Selangor's biotechnology industry and as catalyst for high quality property development in Pulau Indah. The project focuses on four biotech segments namely nutraceuticals, pharmaceuticals, palm based bio products and cosmetics.