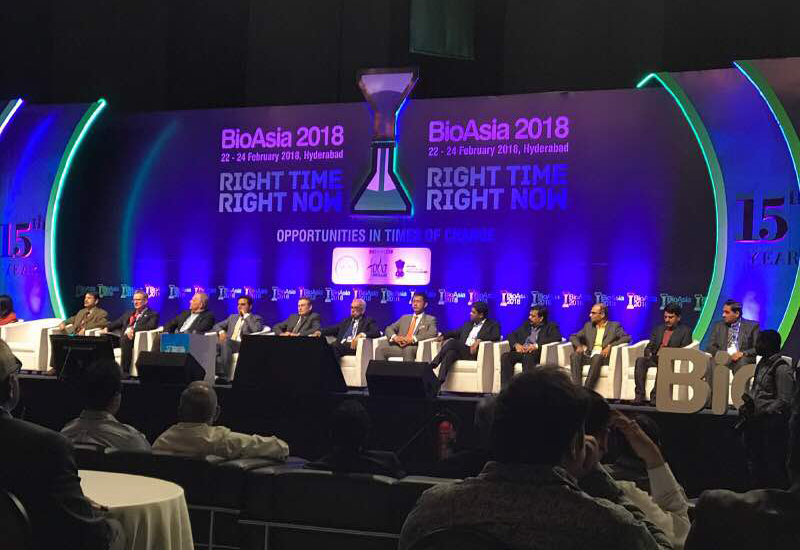 Signing of Collaboration Agreement between CSSB and TSIIC
22 FEBRUARY 2018 – Central Spectrum (M) Sdn. Bhd. (CSSB), have marked another milestone in its history with the signing of a collaboration agreement with Telangana State Industrial Infrastructure Corporation (TSIIC) during the 15th edition of Bio Asia exhibition in Hyderabad, India and in the presence of Industries and IT Minister K.T. Rama Rao.
The collaboration agreement has been a half-years' worth of effort starting from the Selangor's Chief Minister visit to India in September 2017. Following that visit, the Chief Minister have opened doors for collaboration to foster and this have resulted in the partnership between CSSB and TSIIC. CSSB presents Selangor Bio Bay; a 1,012 acres, mix-development project which will be host to bio-science pursuits and includes research institutes, laboratories and a lifestyle component. The RM5.5 billion worth of project is divided into three phases – Precinct 1, Precinct 2 and Precinct 3 covering a development period of 25 years.
The collaboration will cover a few areas and includes the mutual promotion of Telangana and SBB as possible hubs in the region for companies and investors in the field of biotechnology which includes pharmaceutical and medical devices, lifesciences, commercialization and other related fields. Here SBB will propose to Indian biotechnology companies its ideal location as a biotechnology manufacturing hub with ready infrastructure and high accessibility through Westport; which is mere 5 minutes away and Kuala Lumpur International Airport (KLIA) 45 minutes travelling time. SBB will also provide value added factors such as Halal facilitation for companies venturing into the halal market and SBB's Biotechnology Accelerator Center (BAC) which includes a research center where biotechnology start-ups can be nurtured and through our planned partnership with academic institutions such as Monash University Malaysia, hope to drive industry-academic interactions to drive commercialization of biotechnology products.
The two parties would also share information on profiles and technologies of companies and research institutes and to assist each other in networking of biotechnology companies and connect with them. Support and facilitatation initiatives to match make potential companies and research institutes in the identified fields is part of the collaboration.
TSIIC was established in 2014 and is geared up to transform Telangana into an ideal destination for industrial investments. It is mandated to provie industrial infrastructure and managing industrial land banks. TSIIC has 150 industrial parks which include sector specific such as IT, biotechnology, aerospace, apparels, pharmaceuticals, automotive and special economic zones. They are responsible to develop Genome Valley; the first and largest life sciences cluster in Asia.