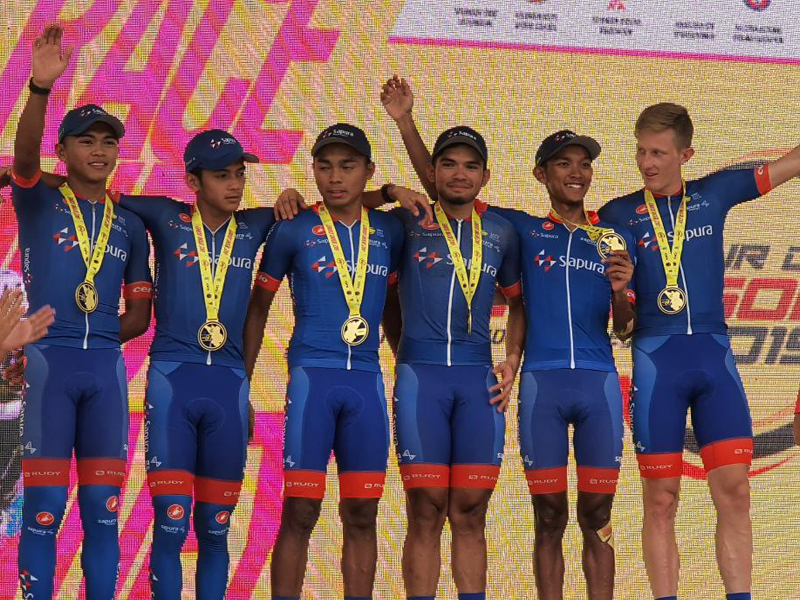 Culey Conquers Tour De Selangor 2019
Marcus Culey of Sapura rode to secure the overall victory, King of Mountains Classification and Points Classification in Tour De Selangor 2019 which was held from 18 to 22 December.
Central Spectrum is proud to be a Partner of Tour De Selangor 2019 sponsoring the Red Polka Dot Jersey (King of Mountain). The Flag-off of the first stage of the race took place at Selangor Bio Bay Show Gallery on 18 December.
The 26 year-old Australian rider, Marcus Culey, became the contributing factor for Sapura's ride to victory as he managed a clean sweep of all the Jerseys of Honor for each classification.
Overall results for the five (5) stages of the race for Tour De Selangor 2019 are as below:-
Stage 1:  18th Dec 2019 – Pulau Indah – Batang Kali (176.9KM)
1 – Marcus Culey – Team Sapura Cycling 🇲🇾  (Polka Dot Jersey KOM)
2 – Loic Desriac – Bikelife Dong Nai 🇻🇳
3 – Benedikt Helbig – Team Embrace The World 🇩🇪
Stage 2:  19th Dec 2019 – Sungai Buloh – Kajang (160.5KM)
1 – Marcus Culey – Team Sapura Cycling 🇲🇾  (Polka Dot Jersey KOM)
2 – Shotaro Watanabe – Aisan Racing Team 🇯🇵
3 – Maral-Erdene Batmunkh – Terengganu Inc. TSG Cycling Team 🇲🇾
Stage 3:  20th Dec 2019 – Cyberjaya – Bukit Jugra (90.5KM)
1 – Marcus Culey – Team Sapura Cycling 🇲🇾  (Polka Dot Jersey KOM)
2 – Ahmad Yoga Ilham Firdaus – PGN Road Cycling Team 🇮🇩
3 – Loic Desriac – Bikelife Dong Nai 🇻🇳
Stage 4:  21st Dec 2019 – Selayang – Sungai Besar (145.2KM)
1 – Marcus Culey – Team Sapura Cycling 🇲🇾  (Polka Dot Jersey KOM)
2 – Ahmad Yoga Ilham Firdaus – PGN Road Cycling Team 🇮🇩
3 – Robin Christofer Jurado Lopez – Terengganu Inc. TSG Cycling Team 🇲🇾
Stage 5:  22nd Dec 2019 – Klang – Shah Alam (111.9KM)
1 – Marcus Culey – Team Sapura Cycling 🇲🇾 (Polka Dot Jersey KOM)
2 – Ahmad Yoga Ilham Firdaus – PGN Road Cycling Team 🇮🇩
3 – Robin Christofer Jurado Lopez – Terengganu Inc. TSG Cycling Team 🇲🇾
Continental Team:
1) Team Sapura Cycling 🇲🇾
2) Terengganu Inc. TSG Cycling Team 🇲🇾
3) Aisan Racing Team 🇯🇵
4) Customs Cycling Indonesia 🇮🇩
5) PGN Road Cycling Team 🇮🇩
6) Team Embrace The World 🇩🇪
State & Club:
1) Next Cycling Team (Singapore Club 🇸🇬)
2) Carnegie Caulfield Cycling Club (Australia Club 🇦🇺)
3) PDRM-G Cycling Team (PDRM Club 🇲🇾)
4) Team Armed Forces (ATM Club 🇲🇾)
5) Johor Cycling Team (Johor 🇲🇾)
6) Kuala Lumpur (Kuala Lumpur 🇲🇾)
7) Fomena Amskin Racing Club (Pahang 🇲🇾)
8) Perak Kencana (Perak 🇲🇾)
9) Kelantan Kembang Jaya Team (Kelantan 🇲🇾)
10) Bikelife Dong Nai (Vietnam 🇻🇳)
11) Iskandar Cycling Club (MSN Johor 🇲🇾)
12) Terengganu (Terengganu 🇲🇾)
13) Selangor Cycling Team (Selangor 🇲🇾)