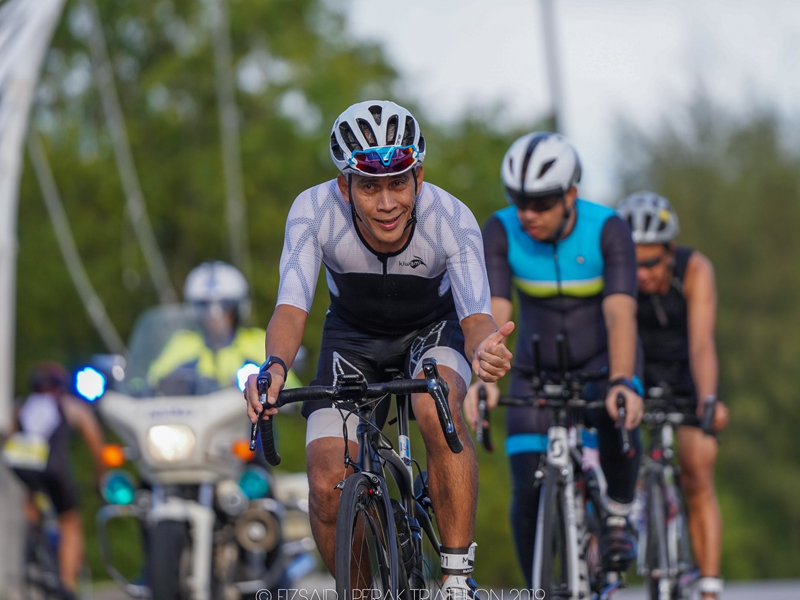 Juned Mustafa, the Ironman of CSSB
Meet Mr. Juned bin Mustafa, Senior Manager of Development at Central Spectrum Sdn Bhd, aged 53 years and participant of the Ironman Malaysia 2019 which was held in Langkawi on October 26.
TenLetters got up close and personal with Mr. Juned to discover what goes on in the heart, mind and body of an Ironman athlete to inspire us to do better in our own lives.
To the uninitiated, an Ironman Triathlon is one of a series of long-distance triathlon races organized by the World Triathlon Corporation, consisting of a 3.8 km open-water swim, a 180 km bicycle ride and a marathon 42 km run, raced in that order. It is widely considered one of the most difficult one-day sporting events in the world. On top of that, Ironman Langkawi is considered the 2nd toughest Ironman course in the world due to its high midday temperatures and humidity levels coupled with a challenging hilly terrain bicycle course.
Now, the question on everybody's mind, why? Why did Mr. Juned choose to train for one of the most strenuous competitions in the world?
Juned:   The desire to challenge myself inspired me to enter my very first Ironman competition.
I had previously entered numerous triathlons prior to Ironman but those were Olympic distances i.e. swim 1.5 km, bike 40 km and run 10 km. I had always trained on my own and also entered these triathlons on my own. In time, I began to make friends from the triathlon clan who had done the Ironman before. Their comradeship, dedication, determination and commitment to the sport totally amazed me and this influenced me to take up the Ironman challenge.
What kind of training regime was followed in preparation for the competition?
Juned:   I trained 6 days a week with a rest day in between. Weekdays was confined to shorter distances while on weekends I would go longer distances. However, it was not easy to keep to the training schedule. One has to juggle between work and family commitments.
Training in fact was harder than the competition itself. I actually felt relaxed coming into the competition.
During training I thought of giving up a few times. Sometimes when your body is so tired after training, you ask yourself 'why are you doing all this?' 'What are you trying to prove?' 'You are not going to win anything anyway'
Everyone who does Ironman have their own reasons which sometimes can be quite personal. You just have to do Ironman to find the answers within yourself.
You didn't complete the course; will you be trying again?
Juned:   I stopped after the 21 km mark during the 42 km run. Mental toughness and nutrition were lacking in my preparation for the Ironman. Determination alone will not get you through the ironman competition.
Yes, I will definitely try again InshaAllah and I will definitely recommend staff of CSSB to take up the challenge. Ironman has also other categories which are shorter distances. "Without Dreams We Are Nothing" is what they say in Ironman.
You are an avid cyclist, what would you say makes a good cyclist? Do you have other hobbies?
Juned:   I used to play golf and scuba diving but now the triathlon discipline takes up most of my time. I do not consider them as hobbies but as a lifestyle instead. What price are you willing to pay for your health I ask you?
Key factors in being a good cyclist? Consistency and cycle more!!!
What is your opinion of the corporate culture in CSSB where 90% of the staff are cyclists?
Juned:   It is indeed a good culture. If you look carefully cycling relates directly to the work culture. How you work as a team, pushing boundaries, encouraging & motivating each other. How you push yourselves individually beyond your capabilities to achieve your goals, it all relates to the challenges and experiences when you cycle.
CSSB Staff participate in cycling competitions every quarter of the year. What are the challenges & motivation behind the tough races and how are the staff performing so far? 
Juned:   The committee of Selangor Bio Bay Cycling Club (SBBCC) have always chosen different routes to give staff new challenges to overcome. Of course, cycling is not everyone's cup of tea. So, I have the utmost respect for those who are not really passionate about cycling but give it their all to help their respective team win.
Race day is not the challenging part. Race day is the reward of hard work while you were training leading to the race day. It will reward you with the performance and experience that you desire.
What is your most unforgettable cycling adventure?
Juned:  It has to be the cycling trip to South Korea with CSSB staff from 24 April to 1 May 2016 that was the most memorable one. Just thinking about It has brought back so many fond memories. The bonding and experiences during that trip was just priceless!
IRONMAN 2019