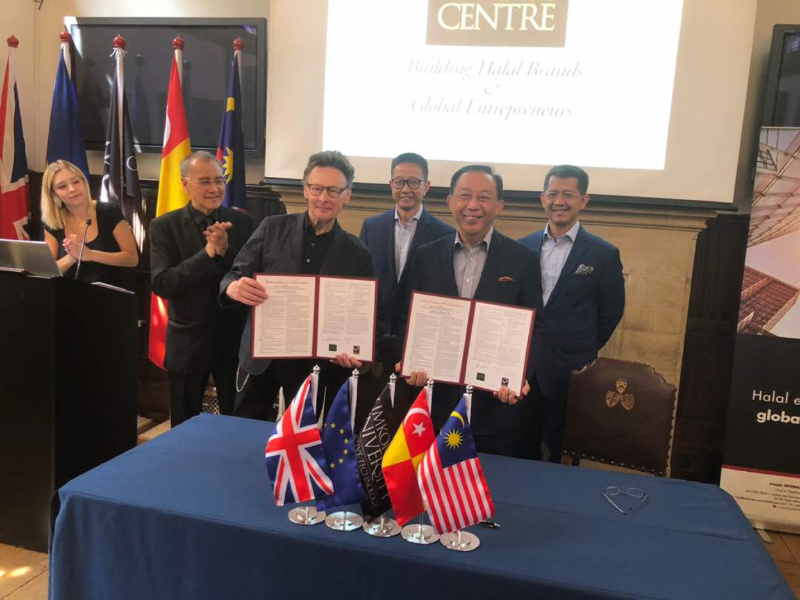 Worldwide Halal Business Connector at LimKokWing London
London, 21 July 2018 – Limkokwing University London has today signed a Collaboration Agreement with Halal International Selangor (HIS) and European Halal Development Agency (EHDA) to bring about business consultancy and human resource development for Halal market in both regions.
The establishment of The Halal International Entrepreneurs Centre in UK, located at the Limkokwing University London premises in Chancery Lane, is a giant leap for Malaysia's national agenda and a global footprint in internationalizing the Halal brand for consumers worldwide who demand ethical, organic and safe products.
Tan Sri Dato' Sri Paduka Dr Limkokwing, Founder/President of the university will establish a similar Centre at his campuses in Asia and Africa in support of Malaysia's leadership in growing more halal entrepreneurs worldwide.
The University and its President/Founder has been involved in efforts to develop Malaysia as a global hub for the production of halal food since the World Halal Forum in 2006 held in Kuala Lumpur. The University has also been working towards the development of branding and packaging designs and jointly conducts research and development with top businesses for halal food promotion.
The Signing Ceremony was witnessed by YB Dato' Teng Chang Khim, Selangor State Senior Executive Councillor (EXCO) for Investment, Industry and Commerce and SME Malaysia Ambassador in London, UK, Ybhg.Dato' Hassan Idris, CEO of Invest Selangor, Ybhg.Dato' Mahmud Abbas, Director of HIS, Dr.Adel Sabir, Chairman of EHDA, YM Raja Dato' Aznil Raja Hisham, Senior Vice President, Limkokwing University and attended by business and industry associates as well as Malaysia's investment promotion agency in London, UK.