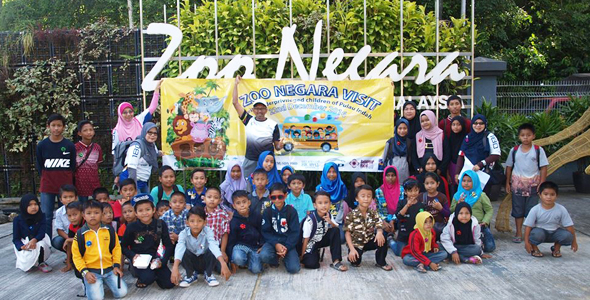 Children of Pulau Indah visit Zoo Negara
The CSSB's Pulau Indah Outing Team (PIOT) is organising an educational visit to Zoo Negara on 22 December 2016. A total of 40 children have been selected from a low income family in Pulau Indah. They are accompanied by 5 PIOT members, led by En. Wan Mazri Wan Ramli. The purpose of the visit is to give an exposure and opportunity to the children in Pulau Indah to have an outing activity during the school holiday. It is also part of Corporate Social Responsibilities (CSR) program design under CSSB to help the people in Pulau Indah.
Among the attraction visited at Zoo Negara includes Children World, animal show, Safari and Panda Conservation Centre. "We wanted this pupil to learn about wildlife in a fun way," said En Wan Mazri Wan Ramli, adding that he hopes there will be more educational trips in the future as part of the CSR program for pupils in Pulau Indah.
As part of the educational program, the group makes a stop at Tugu Negara while on the way back. Here, they learn about patriotism and the history about Malaysia.