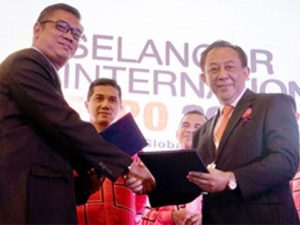 Halal International Selangor in Selangor International Expo (SIE) 2015
Halal International Selangor (HIS) participated in Selangor International Expo 2015 at The Mines International Exhibition & Convention Centre (MIECC) from 26th to 28th November 2015.
Menteri Besar of Selangor, YAB Dato' Seri Azmin bin Ali, has launched the event and witnessed the exchange of document between Yinchuan Municipal People's Government, Ningxia Province People's Republic of China, Koperasi Majlis Belia FELDA Malaysia Berhad, SMI International Wholesale (China) Centre Sdn. Bhd. with HIS.
Mahmud Abbas, CEO of Central Spectrum (M) Sdn. Bhd. represented HIS during the exchange of document which was also witnessed by the Honourable YB Dato' Teng Chang Khim, Senior Executive Councillor, State Government of Selangor, YB Dato' Noordin bin Sulaiman, Selangor State Finance Officer and Hasan Azhari bin Hj. Idris, CEO of Invest Selangor.