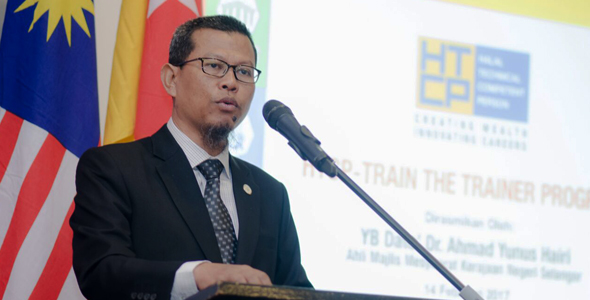 Creating Wealth Innovating Careers with Halal Technical Competent Person Workshop
The Halal Technical Competent Person workshop is a series of "Train The Trainer" (TTT) program and had been organised by Aspire Flagship Sdn Bhd (AFSB) at Concorde Hotel Shah Alam on 14-16 February 2017. It is the kick-off project for Halal International Selangor (HIS)'s Global Halalan Toyyiban Trade & Industries Ecosystem, known as Halal Technical Competent Person (HTCP) and participated by 31 participants, mostly experts in Halal Industries from different field of studies.
Halal Technical Competent Person Workshop
The objectives of the TTT program is to prepare and equip the HTCP participants with basic knowledge of Halal and its requirement, enhance the knowledge, experiences and enable the participants to conduct in-house Halal related training program in their organisation and to the potential Halal practitioners and officers locally and internationally. The process is to ensure the Halalan Toyyiban is being continuously practiced in its business field of trade, industry and services and achieved the 24/7 Halal Assurance practices.
The three-day Halal Technical Competent Person workshop was officiated by Y.B. Dato' Dr. Ahmad Yunus Hairi, Joint Deputy Chairman of Halal International Selangor Council. Among the special guests were Mr. Mahmud Abbas, Director of Aspire Flagship Sdn. Bhd. (AFSB) and Y.M. Raja Dato' Hj. Aznil Raja Hisham, Chief Operating Officer of AFSB.
Other special invitees for the TTT program were Central Spectrum (M) Sdn Bhd's Management, Invest Selangor Berhad, Jabatan Kemajuan Islam Malaysia (JAKIM) and Jabatan Agama Islam Selangor (JAIS).