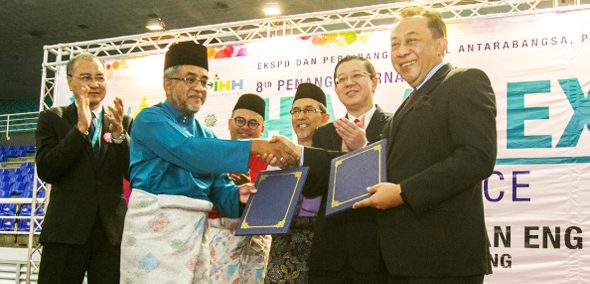 MoU Exchange between Halal International Selangor & PIHH Development Sdn. Bhd
Aspire Flagship Sdn. Bhd. had signed a Memorandum of Understanding (MoU) with PIHH Development Sdn. Bhd. on 24 February 2017. The signing ceremony was held in conjunction with the Opening Ceremony of Penang International Halal Expo and Conference (PIHEC) 2017, at Spice Arena (previously known as PISA), Penang.
Both parties were represented by Mr. Mahmud Abbas, Director of Aspire Flagship Sdn. Bhd. (AFSB) and Y.B. Dato' Abdul Malik Abdul Kassim, Chairman of PIHH Development Sdn. Bhd., witnessed by Y.M. Raja Dato' Hj. Aznil Raja Hisham, Chief Operating Officer of Aspire Flagship Sdn. Bhd. and Y.B. Lim Guan Eng, Chief Minister of Penang.
The MoU would grant access for AFSB to promote Global Halalan Toyyiban Trade And Industries (GHTTI) Ecosystem through its project Halal International Selangor (HIS), locally and internationally by leveraging PIHEC platform. This promotion is aimed to create awareness on HIS and one of GHTTI's component which is the Halal Technical Competent Person (HTCP) to the public and industries players who visited PIHEC 2017.
It also highlighted the important role of the Professional Halal Officer / Halal Technical Competent Person in ensuring the 24/7 halal assurance practices worldwide and in improving the halal business transactions, to strengthen the technical aspect of Halal procedures and as well as competency methodologies in the Halal industry practices.