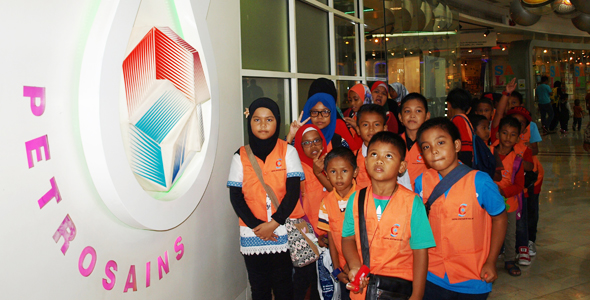 Educational Visits With Underprivileged Children of Pulau Indah
Once again, Central Spectrum (M) Sdn. Bhd. (CSSB) had organised an educational visit on 23 March 2017. This time, the destinations were AQUARIA and PETROSAINS, located at KLCC, Kuala Lumpur. The program involved 40 underprivileged children from Pulau Indah, assisted by four CSSB's staff.
The school holiday activities are part of the Corporate and Social Responsibility Program by CSSB with the objective of providing opportunities for underprivileged children of Pulau Indah to discover, explore and expand their knowledge in the field of biology and science. The group departed from the Sultan Abdul Aziz Mosque, Pulau Indah at 8.00 am and their first destination was Aquaria KLCC. Here, they had the opportunity to view and learn about marine life, evolution and importance of nature.
After lunch, they were taken to PETROSAINS located at Level 4, Suria KLCC. All were very excited to explore and test their mind with a variety of games based on science. Other activities included visiting the various exhibits such as the galactic system and exploration of Life and Science.