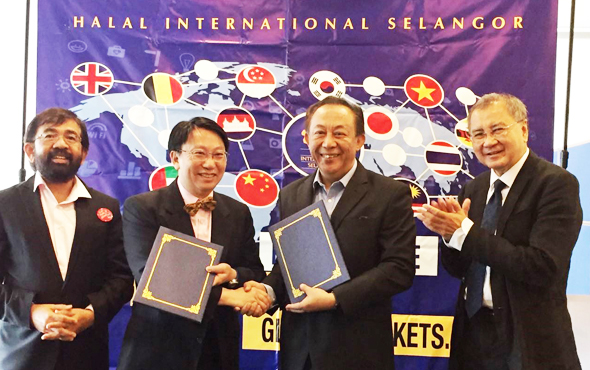 MoU Exchange between Halal International Selangor & One Belt One Road Eurasian Co. Ltd.
Aspire Flagship Sdn. Bhd. (AFSB) had signed a Memorandum of Understanding (MoU) with the One Belt One Road Eurasian Co. Ltd. on 25 January 2017. This MoU would provide an opportunity to AFSB to improve access to the world halal market through its project, Halal International Selangor (HIS). HIS will play an important role in promoting the halal trade and industry through this "One Belt One Road" platform.
The MoU would benefit both parties in terms of trade, which is in line with HIS's Global Halalan Toyyiban Trade And Industries (GHTTI). The GHTTI platform solution comprises of 10 key programs, namely Real Estate, Delivery Assurance, Distribution Chain, Market Development, Capacity Development, Industry Development, Human Capital Development, Licensing & Royalties, Funding & Financing and Lifestyle.
The signing ceremony was held at the AFSB office's in Laman Seri Business Park, Shah Alam. AFSB was represented by its Director, Mr. Mahmud Abbas and Mr. Homer Yu, Vice Chairman of the China Council for the Promotion of International Trade (CCPIT) for One Belt One Road Eurasian Co. Ltd. and witnessed by AFSB's Chief Operating Officer, Y.M. Raja Dato' Hj. Aznil Raja Hisham and its consultant, Mr. Ahmad Inzuddin Mohd. Hashim.
"One Belt One Road" (OBOR) is a cooperative development initiative on bilateral and multilateral mechanisms between China and relevant countries and regions, launched by the Chinese government in 2013. It refers to the New Silk Road Economic Belt, which will link China with Europe through Central and West Asia.