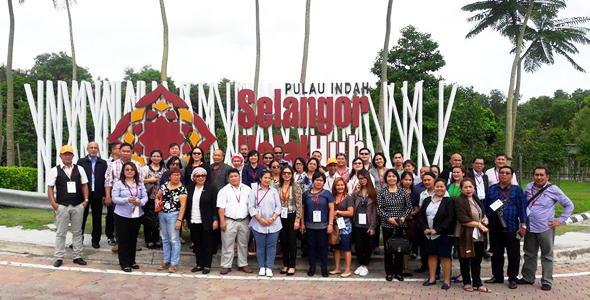 Study Visit by Philippines Investment and Trade
A group of delegates from Philippines Investment and Trade led by Madam Ranibai Dilangalen, Deputy Minister of Agriculture made a study visit to Pulau Indah on 3 April 2017. This visit provides an opportunity for Central Spectrum (M) Sdn. Bhd. (CSSB) to promote Pulau Indah to the potential investors. The delegates were exposed with the industrial facilities that had been developed by CSSB.
The delegation arrived at the CSSB's office and they were briefed on industrial development in Pulau Indah. The highlight includes a briefing on the Halal International Selangor (HIS) by Y.M. Raja Dato' Hj. Aznil Raja Hisham, Chief Operating Officer of Aspire Flagship Sdn Bhd and Pulau Indah Industrial Park (PIIP), Selangor Halal Hub (SHH) and Selangor Bio Bay (SBB) by Mr. Mohamad Razif Abdul Wahab, General Manager – Sales & Marketing of CSSB. After briefing, they went for a site visit and ended with refreshment at CSSB's café.