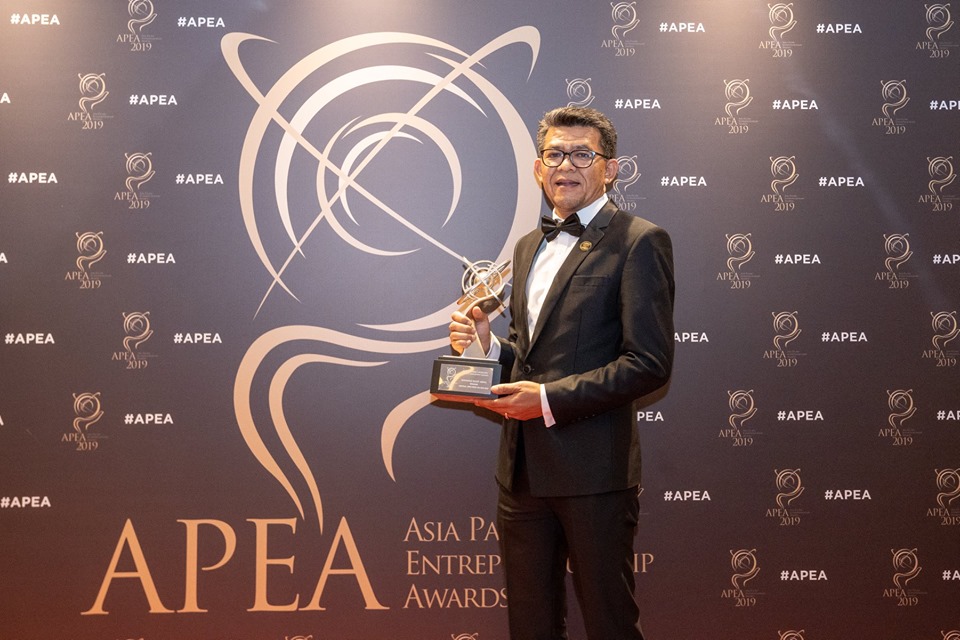 Mohamad Razif won Outstanding Category Award at APEA 2019
Recently, on September 6th, Mohamad Razif Abdul Wahab, Chief Executive Officer (CEO) of Central Spectrum (M) Sdn Bhd was awarded the Outstanding Category Award at APEA 2019.
The prestigious Asia Pacific Entrepreneurship Awards (APEA) is a Regional Award Recognition programme recognizing entrepreneurial excellence. The award aims to spur entrepreneurs and organizations across Asia to greater heights through innovation, fair practices and growth in entrepreneurship. Ultimately creating a successful entrepreneurial ecosystem which will then shape Asia towards sustainable economic and social growth.
It is truly an honour for Central Spectrum to be a recipient this year as it validates the aspirations and achievements of the company. APEA honours business leaders and organizations who have shown outstanding performance and tenacity in developing successful businesses, whilst not neglecting the social responsibilities that come with leadership.
Awardees are recognised for showcasing outstanding accomplishments in the past and present, as well as displaying the vision and potential to advance their companies to be leading businesses in the near future. The awards are accorded by industry categorisation, where winners are honoured amongst their peers. This indeed is a truly humbling experience for Central Spectrum.
In Malaysia, APEA is supported by Malaysia External Trade Development Corporation (MATRADE), Malaysia Investment Development Authority (MIDA), Malaysian Associated Indian Chambers of Commerce & Industry (MAICCI) and Institut Keusahawanan Negara (INSKEN). RSM Malaysia is the official assurance partner of the awards, while Bank Rakyat is the main sponsor.
This is the award's 13th year, and Malaysia is the sixth market to organize the awards this year, out of the awards' 14 markets. This is an initiative by Malaysia-based organiser Enterprise Asia. APEA is the largest regional recognition programme, with over 3,000 nominations received each year, and less than one tenth of that receiving the awards in all 14 markets.
With the theme of 'Promoting Inclusive Economic Development Through Sustainable Entrepreneurship', over 300 attendees were present at the by-invitation only awards ceremony in Kuala Lumpur, comprising of industry leaders and dignitaries including Tan Sri Dr. Fong Chan Onn, chairman of Enterprise Asia; Tan Sri Ahmad Fuzi Haji Abdul Razak, advisor to Enterprise Asia; Datuk Seri Dr. Victor Wee, advisor to Enterprise Asia; Dato' Robert Teo, managing partner of RSM Malaysia; Dato' Rosman Mohamed, Acting Managing Director of Bank Rakyat and Dato' William Ng, president of Enterprise Asia.
Enterprise Asia is a non-governmental organisation in pursuit of creating an Asia that is rich in entrepreneurship as an engine towards sustainable and progressive economic and social development within a world of economic equality.