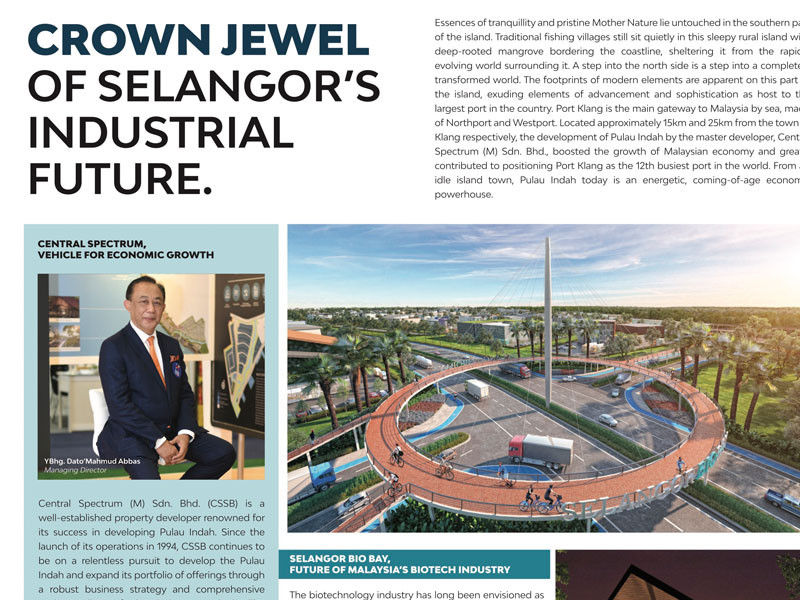 Crown Jewel of Selangor's Industrial Future
Central Spectrum Sdn. Bhd. (CSSB) is a well-established property developer renowned for its success in developing Pulau Indah. Since the launch of its operations in 1994, CSSB continues to be on a relentless pursuit to develop the Pulau Indah and expand its portfolio of offerings through a robust business strategy and comprehensive understanding of the industry outlook. The patronage of the state government provides CSSB with the support that is essential for the company as the vehicle for Selangor's economic growth.
In its journey to realise its business aspiration, CSSB recognises the imperative need to address the societal and environment issues as a responsible corporate citizen through outreach and education programmes. With a focus on environment and community well-being, CSSB embarked on a number of initiatives in a mission to ensure a sustainable tomorrow. The mangrove rehabilitation efforts were initiated in 2015 with the opening of the preservation area to the public for hands-on experience and learning. This environmental initiative was further intensified through a collaboration with JARING for the the mangrove planting programme at the Sungai
Chandong Besar, participated by over 500 volunteers.
In uplifting the community well-being, the River Track Cycle Park was established in PIIP Phase 3A to integrate a healthy living lifestyle within an industrial development. It offers a unique cycling experience while allowing individuals to enjoy the greenery that surrounds the area.
-This article was published in The Edge on 3rd December 2018