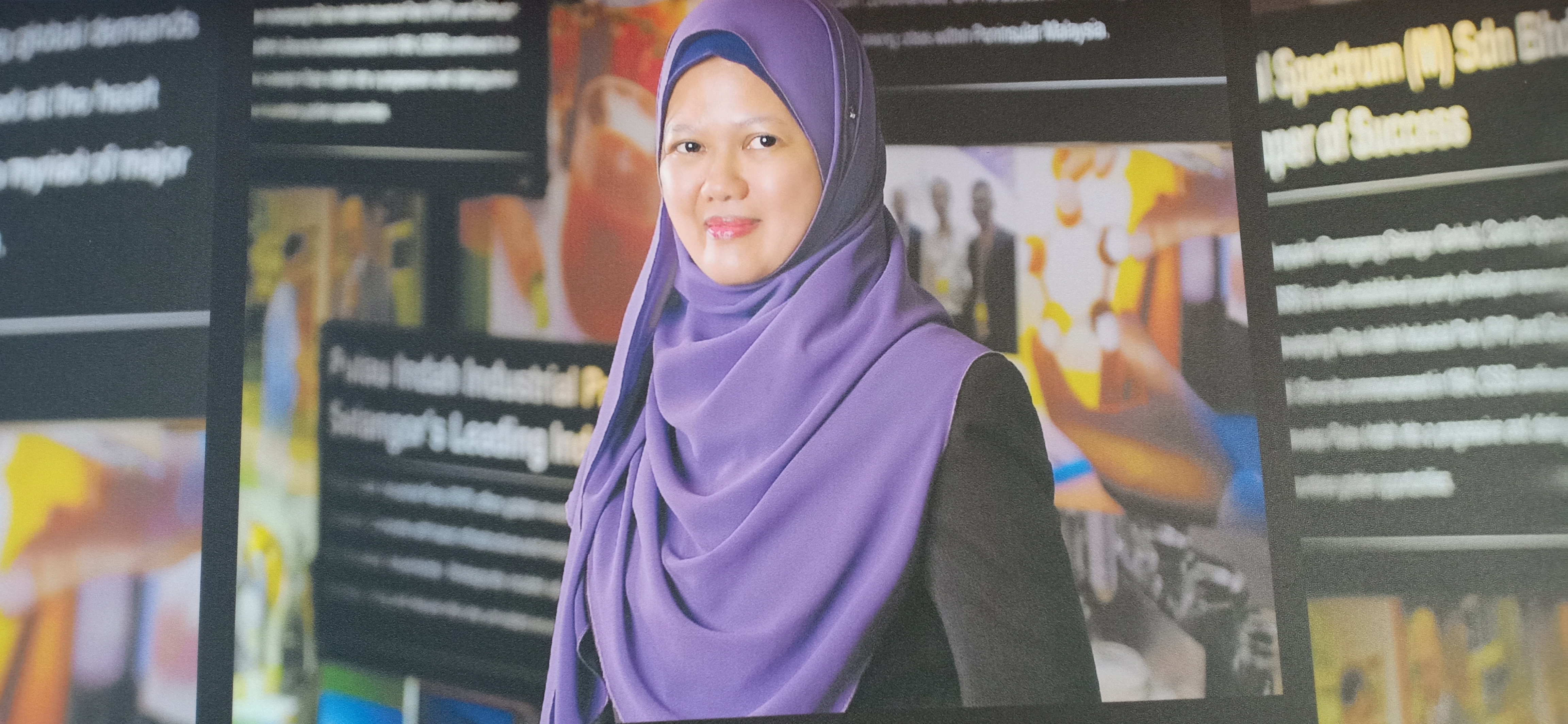 Ruzita (CFO) – Optimistic on Financial Outlook
Q &A with Central Spectrum's brand-new Chief Financial Officer
"Despite uncertainties in the market / industry, I am very optimistic on the financial outlook of CSSB in view of the comprehensive master development plan, robust strategic business planning, capable & skilled human capital and strong teamwork at CSSB." – Ruzita Mohd Taib
Ruzita Mohd Taib was recently appointed as Chief Financial Officer and is now responsible for the finance, corporate affairs, human resources and administration at Central Spectrum Sdn Bhd. A graduate of the London Business School's Senior Executive Programme, Ruzita also holds a Master's Degree in Business Administration (Finance and Investment) from the International Islamic University. She has over 20 years of experience in property development and the healthcare industry contributing her expertise in accounting and financial management.
In a recent interview with TENLETTERS on her new appointment, Ruzita shares her take on the industry and the direction she intends to take.
How do you feel about the new appointment?
I feel excited and at the same time nervous to play diverse and challenging roles to assist in shaping the overall strategy that will bring CSSB to another level of success. I need to look at different ways to perform my duties and responsibilities now. It's broader than numbers' crunch and it requires not only the traditional financial skills, but also more strategic and market facing responsibilities. I need to make a difference in my ability to lead and operate in areas where there is no right or wrong answer.
What is the financial strategic direction that you are planning to steer the company towards?
My financial strategic directions are inclusive but not limited to managing finances, securing revenue and profit as per plan, strong cash flow via analysing various funding options and looking into investment for growth and sustainability of CSSB business.
What are the current risks and opportunities in the industry that you will be assessing?
The current risks in the industry centre around the gloomy property market especially for residential and commercial type of developments, political and economic uncertainties. 2019 is seen as another tough year for us to pull through. Nevertheless, the industrial development which we have plus its strategic location near the seaport and not too far away from  Malaysia's International airport create opportunities for CSSB in terms of not only getting investors or potential buyers but also in gaining financial institutions as well as joint venture partners to support and provide financing for the development.
What is your opinion about the state's direction towards Smart Selangor and IR4.0 in relation to the business activities of CSSB?
In my opinion, the State is progressing well towards its Smart Selangor and IR4.0 initiatives. CSSB is very supportive of these initiatives by imposing or putting in relevant / necessary infrastructures which can cater most if not all Smart City and IR4.0 requirements via its Selangor Bio Bay.
Smart city i.e. Smart Selangor and IR4.0 are interrelated in the sense that both are talking about technologies advancement which require a well-structured infrastructure. A combination of cyber-physical systems, the Internet of Things and the Internet of Systems make IR4.0 possible and the smart factory as well as smart city a reality. Thus, CSSB is contributing by developing and providing areas which are ready with the required Smart Selangor and IR4.0 infrastructures.
Would it have a considerable financial impact on CSSB? Are you optimistic or conservative on the financial outlook for CSSB in the near future?
Smart Selangor and IR4.0 initiatives will definitely have an impact on us especially on cost to lay down its smart infrastructure. However, we have taken them into consideration during our master planning stage and catered for the necessary in the project feasibilities.
Despite uncertainties in the market / industry, I am very optimistic on the financial outlook of CSSB in view of the comprehensive master development plan, robust strategic business planning, capable & skilled human capital and strong teamwork at CSSB.