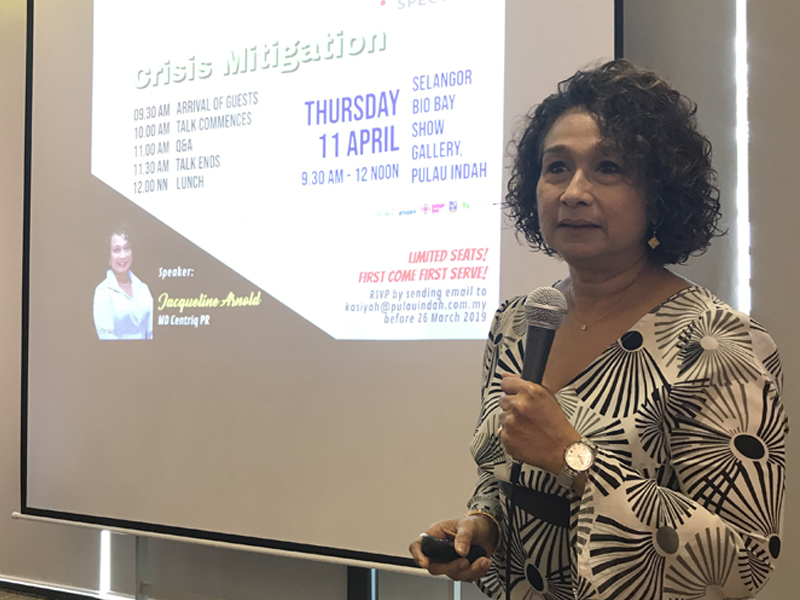 CRISIS MITIGATION: How prepared are we?
Whether in business or life in general, we never know what is around the corner that can threaten your life or company as you know it.
Crisis mitigation or management is a crucial element of any business, how well prepared you are for a crisis is the difference between survival or the beginning of the end. This is the question that set our minds abuzz recently.
On April 11, Jacqueline Arnold, Managing Director of Centriq PR spent the morning at Selangor Bio Bay Show Gallery sharing with us the crucial elements of a crisis management strategy and stressing the importance of having one in place.
This is the second event of SBB Talk Series organized by Central Spectrum. The customers of Pulau Indah Industrial Park (PIIP) and Selangor Halal Hub (SHH), as well as the local authority, MPK sent their representatives to attend so as to learn from the experienced speaker.
The one-and-a-half-hour talk was packed with real-life information and an in-depth case study that visually demonstrated the escalation of a crisis and the consequences from it.
It was an eye-opening session where Jacqueline stressed on the importance of preparedness in managing a crisis well and most importantly understanding what constitutes a crisis for a company in particular.
Participants understood that the internal policies, plans and processes of a company must work across all levels to ensure that in the event of anything untoward happening, the reputation of the company is always protected.
Jacqueline has close to twenty years of experience in mitigating crisis for organizations through consultation and crisis management training. During the session, she shared best practices in the industry on developing preventive measures, crisis preparation, how to manage communications in a crisis as well as key measures to take post-crisis. The starting point to the whole process however, is understanding the definition and characteristics of a crisis in order for every one to be vigilant and ready to act when a crisis happens.
All too often companies think that a situation may blow over soon or worse, they might try to sweep it under the carpet. These are all actions that Jacqueline highlighted in her talk as things not to do.
The most important take-away from this talk was realizing that years of trust and goodwill can be destroyed within the first 60 minutes of when a crisis breaks if the company doesn't take control of the situation by acknowledging the issue, comforting those affected, giving assurance of the action that is being taken and thanking parties involved that are helping the company mitigate the crisis.
What happens within that first 60 minutes, depends highly on the quality and effectiveness of the crisis management strategy that has been developed by the company.
The question remains; are we there yet?