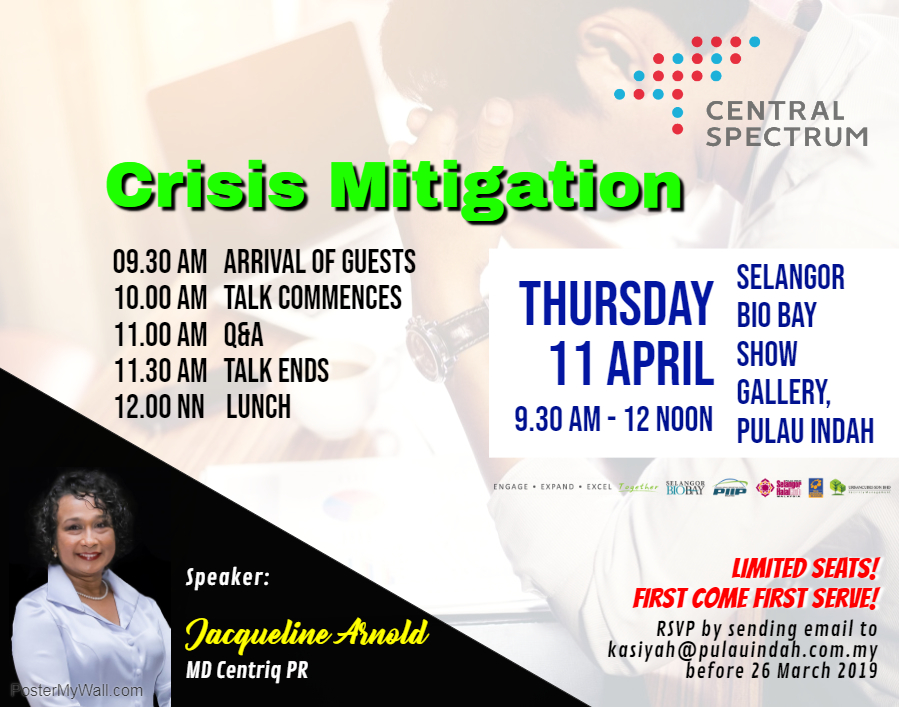 Crisis Mitigation – Corporate talk by Jacqueline Arnold
­
Title: Crisis Mitigation
Date: 11 April 2019 (Thursday)
Time: 9:30am – 12:00 noon
Venue: Selangor Bio Bay Show Gallery, Pulau Indah
Speaker: Jacqueline Arnold
Event itinerary:
9:30am            Arrival of guests
10:00am          Talk commences
11:00am          Q & A
11:30am          Talk ends
12:00noon       Lunch
About the Speaker
Jacqueline Arnold has been involved in media training and crisis communications since she joined the public relations profession in 2000. In addition to providing strategic counsel to senior management and hands-on experience in crisis situations, she has also conducted numerous crisis communications and issues management training sessions, vulnerability analysis workshops, media training programmes and assisted clients in developing crisis manuals.
With close to 20 years of experience helping organisations deal with crisis, Jacqueline Arnold would be happy to share some tips and best practices on 'Crisis Mitigation' with the audience.
About the Topic
It takes years to build trust. It only takes suspicion, not proof, to destroy it.
Preparedness is vital to a well-managed crisis. It must be clear what constitutes a crisis for your particular organisation.
Your policies, plans, and processes must work across all levels of the organisation, whatever the situation, to ensure that the organisation's reputation is always protected.
The best way to handle any crisis is to be prepared and equipped with the necessary knowledge, organisation structure and skills.
Areas to be covered:
Definition & characteristics of crisis
Preventive measures
Crisis preparation
Crisis communications
Post-crisis measures
Q&A
We strongly believe the sharing session will benefit your organization in crisis management. Don't missed out this golden opportunity to equip your staffs with professional knowledge.
Due to limited seats, the talk is based on first-come first-served basis. Kindly RSVP by sending email to: kasiyah@pulauindah.com.my latest by 26 March 2019.
See you there!
Case Study
When Crisis Strikes
Highland Towers collapse, LRT incidents, product contamination, corporate financial scandals – many of us have been heard or even been affected by a crisis at some point in our life. A crisis is an occurrence which puts an organisation, and its methods of operation, under intense public and media scrutiny. If not handled properly, a crisis will result in negative impact on the organisation's business and, more importantly, reputation. We read almost on a daily basis of organisations facing crisis. Consider now the two classic case studies of Johnson and Johnson's Tylenol and Exxon Valdez.
In 1982, several people died as a result of taking Johnson and Johnson's Tylenol medication. The company acted quickly, recalling Tylenol from every outlet – not just those in the state where it had been tampered with. In addition, the company took a brave decision to keep Tylenol off the shelves until something could be done to provide better product protection. The company went on to develop tamperproof packaging that would make it much more difficult for a similar incident to occur in future. Tylenol regained its market share within six months, and the case goes down in public relations history as a shining example of how a negative situation can be turned into an opportunity to claim leadership through effective public relations.
On the flip side, in 1989, the Exxon Valdez oil tanker ran aground in Prince William Sound, Alaska – one of the world's purest and most sensitive environments – spilling 11 million gallons of crude oil. Exxon was widely criticized for its slow response to cleaning up the disaster, and the damage to the environment was catastrophic. Exxon spent approximately US$7 billion on the Valdez oil spill – considered one of the most devastating man-made environmental disasters ever to occur at sea -and the case goes down in history as the personification of corporate irresponsibility.
Important decisions have to be made quickly during a crisis, and communication is key to restoring confidence in the organisation. Proper communications will allow an organisation to deal effectively with a crisis, maintain its good reputation and speed the recovery process. At the end of the day, it will not be the crisis itself that the public remembers, but the way the organisation responded to it and handled it. A crisis is a defining moment in the life of an organisation – how will yours handle it?