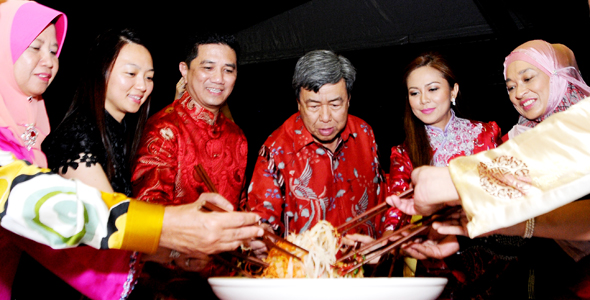 Chinese New Year Open House 2017
The Selangor State Government through its Investment arm, Invest Selangor Berhad in collaboration with Klang Municipal Council (MPK), Tourism Selangor Sdn Bhd, Hijrah Selangor and other government agencies' had organised an open house in conjunction with the Chinese New Year (CNY) on 5 February 2017. The objective of this annual event is to promote harmony and prosperity for all.
The open house celebration was held at the Pandamaran Sport Complex, Klang and attended by H.R.H. Sultan of Selangor and Tengku Permaisuri Selangor, T.R.H. Dato' Seri Mohamed Azmin Bin Ali, Chief Minister of Selangor, T.H. Dato' Teng Chang Khim, Selangor State Senior Executive, Chief Executive Officer of Central Spectrum (M) Sdn. Bhd. (CSSB), Mr. Mahmud Abbas and its Management, and other guests from several private and government agencies'.
The CNY open house was attended by over 5,000 people from all walks of life. It began at 7.00 pm with a lion dance performance followed by beating of the Gong by H.R.H Sultan Sharafuddin as a symbolic of the opening ceremony. As a tradition, H.R.H Sultan Sharafuddin and Tengku Permaisuri Norashikin and other guests of honor together tossed the "Yee Sang", the traditional CNY must-have dish during the celebrations.
Guests were served with a variety of delicacies along with the performances of dragon dances, lion dances and cultural performances. Children were the ones most happy as they received an Ang Pow's that was distributed by the Selangor State Councilors during the celebration.
CSSB has also sponsored on the preparation of the event and celebration of CNY 2017 as part of its Corporate and Social Responsibility program to the community and the State of Selangor.