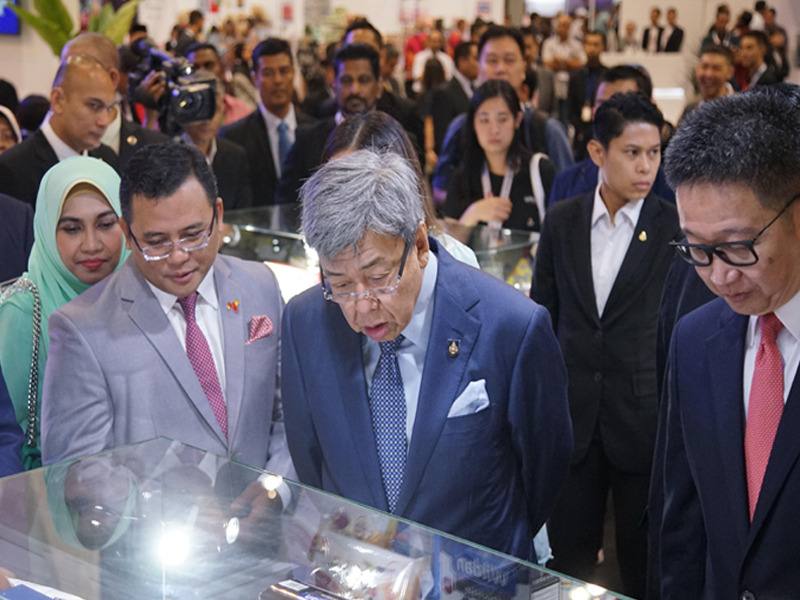 Going for Gold: Selangor International Business Summit 2019
Central Spectrum Sdn Bhd took centre stage at the recently held Selangor International Business Summit (SIBS 2019) as a Gold Sponsor exhibitor, a privilege extended by the organiser, Invest Selangor Berhad.
As a Gold Exhibitor, CSSB's booths were situated in a prime location which attracted high foot traffic and garnered a lot of eyeballs. This not only helped create brand awareness about the development projects in Pulau Indah, namely Pulau Indah Industrial Park, Selangor Halal Hub and Selangor Bio Bay but also introduced CSSB's subsidiaries; Aspire Flagship Sdn Bhd and Urbancubes Sdn Bhd to the public eye.
SIBS 2019 took place at Malaysia International Trade and Exhibition Centre, Kuala Lumpur from Oct 10 to 13.
According to Datuk Teng Chang Khim, Selangor Investment, Industry and Trade, Small and Medium Industries EXCO, SIBS 2019 recorded a total of RM447.3mil worth of business transactions over the four days' event.
"Even the visitor count exceeded our targeted figure as we received 34,638 compared to 23,737 last year," said Teng.
One of the benefits of a Gold Exhibitor was that CSSB was featured on all marketing collaterals ensuring that the company could leverage on the exposure to enhance the brand message of CSSB.
The four main events of SIBS 2019 were the Selangor International Expo 2019, the third Selangor-Asean Business Conference, Selangor Smart City and Digital Economy Convention, and Selangor R&D and Innovation Expo.
Four programmes were featured alongside which were the Malaysia International Tea & Coffee Expo 2019, the 9th Malaysia-China Entrepreneur Conference, Selangor International Halal Conference and Selangor International Culinary Festival.
"We had 702 total exhibitors from 12 countries with 787 booths and 10 memorandums of understanding (MOU) signed," said Teng.
The Opening Ceremony was officiated by Duli Yang Maha Mulia Sultan Sharafuddin Idris Shah AlHaj Ibni Almarhum on Octorber 10. The CEO of CSSB, En. Mohamad Razif Abdul Wahab and CFO, Puan Ruzita Mohd Taib attended the VVIP Luncheon which was graced by the presence of HRH The Sultan of Selangor. All members of CSSB's management team were present for the Opening Ceremony.
Later that afternoon, CSSB's subsidiary Aspire Flagship Sdn Bhd launched the first online Halal Certification Readiness Assessment known as Aspire Rating. The event was officiated by Puan Rodziah binti Ismail, Selangor's EXCO for Entrepreneurial Development, Rural Development, Village and Traditional Village
SIBS 2020 will be from October 14 to 17 at the Kuala Lumpur Convention Centre, registration can be done via Invest Selangor Berhad.