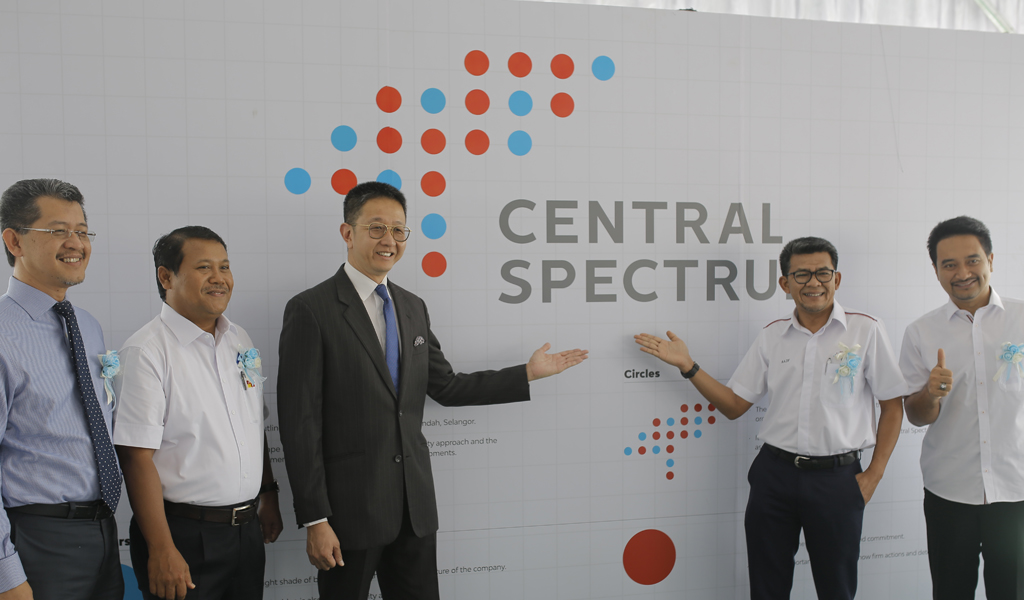 Central Spectrum – New Logo, New Chapter
After 25 years, Central Spectrum Sdn Bhd unveiled their new corporate identity on March 12th at Selangor Bio Bay Precinct 1A to mark their silver jubilee anniversary.
The newly appointed Chief Executive Officer, Mohamad Razif Abdul Wahab, will intensify efforts to bring in more quality investments to spur growth in the Selangor Bio Bay (SBB) project, one of the company's flagship developments.
"We have a five-year plan (as a master developer in Pulau Indah) where we have to take it to another level and translate it theoretically on plan to the physical site," he told a press conference after attending the launch of the new corporate logo of Central Spectrum themed 'The New Chapter' by Selangor senior executive councillor in charge of investments Datuk Teng Chang Kim at SBB Precinct 1A on 12 March 2019.
"SBB is the latest mixed development project spearheaded by Central Spectrum in alignment with the Smart Selangor initiative."
"Established as a bio valley that spans over 1,012 acres of land in Pulau Indah, SBB is host to bioscience pursuits that include research institutes, laboratories and biotech-related manufacturing activities."
"The first phase of the SBB development in Precinct 1A on Pulau Indah, covering an area of 161 acres in total, is currently open for sale."
On the other hand, the trade war between US and China trade war will likely benefit Central Spectrum (M) Sdn Bhd (CSSB) in terms of attracting investments for its flagship Selangor Bio Bay (SBB) project.
Selangor senior exco in charge of investments YB Dato' Teng Chang Kim said he foresees more biotechnology industrialists from China, India and Europe investing in SBB due to the trade spat.
Earlier, Razif said in his speech that the company has come a long way since they first started as 3-person team in 1994 in a tiny office in Kompleks PKNS before moving to Pulau Indah in 1999.
Since then, he said, they have grown from strength to strength as they were given the mandate by the Selangor state government to be the master developer for Pulau Indah. Needless to say, they had their work cut out for them.
"Our missions were challenging, to say the least. On a state level, it is to support Selangor's ambition in becoming a global trading hub. For Central Spectrum, our aim is to transform Pulau Indah from a location to a preferred destination for investments and businesses."
So far, their track record shows they have stepped up to the task as Razif shared that through the development of Pulau Indah Industrial Park and Selangor Halal Hub, they have elevated the status of this once dormant, little island into the epi-centre for business pursuits that it is today. He adds that since they launched the industrial park in the mid-90s, the lands within the area have increased in value from RM15 per square foot to RM 80 per square foot today.
The latest feather in their cap is landing IKEA to establish its third-largest furniture distribution hub in Pulau Indah. This is testament to their confidence in the potential of Selangor.
Moving forward, according to Razif, the primary focus is now on Selangor Bio Bay, "the global biotech industry has been identified as a growth priority."
One of the hallmarks of the ethos behind Central Spectrum's corporate values is the commitment to preserve the environment.
"Selangor Bio Bay is the first master planned development in the state to adopt a low carbon city concept. This initiative is also supported by Majlis Perbandaran Klang. Last year, Selangor Bio Bay bagged the Merit award in the coveted Low Carbon City Award category at the Malaysia Institute of Planners Excellence Award 2018."
Come what may, what is for sure, Razif is committed to nurture the sense of purpose of what they do at Central Spectrum, now further strengthened by a fresh new look to mark the start of a new era.