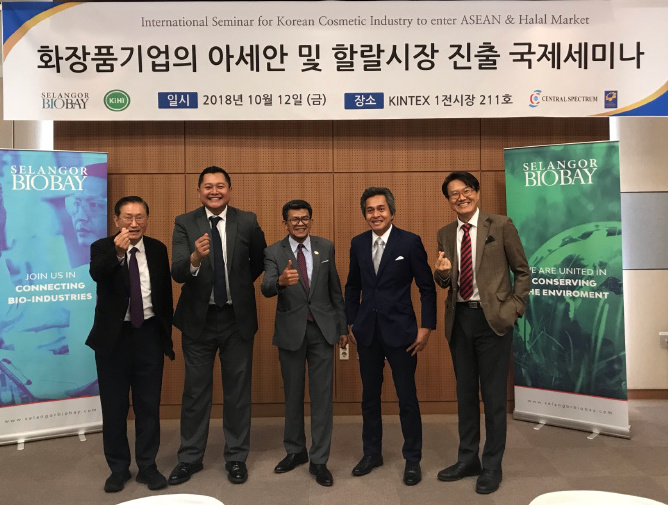 Korean Trade Mission on Halal Cosmetic
Central Spectrum (M) Sdn Bhd (CSSB) recently organized a trade mission to Korea from 10th to 14th October 2018. The purpose was to explore opportunities which may arise from cosmetic manufacturers in Korea that are interested to pursue halal cosmetic market. The team was led by Mr. Mohd Razif Wahab, our Senior General Manager of Sales & Marketing. Also accompanying him is Mr. Zukarnine Shah; Chief Operating Officer of Halal International Selangor  (HIS) and Mr. Fadli Ariff; Manager of Strategic Marketing.
The trade mission focus was to hold a seminar event which was co organized with our Korean partner KiHi. They are responsible to promote the Malaysian halal industry to prospective Korean companies. With their help, we managed to gather about 38 pax representing around 30 Korean companies. The presentation started with our halal services offering since that is the main topic of interest for such companies. It was followed with a detailed briefing on Selangor Bio Bay and its various components. The gist of the seminar was to inform the participants how CSSB and HIS are able to assist in getting halal certification and providing them a suitable location to start their operations. The event took half a day and was held at the KINTEX Exhibition Center, Korea.
Following up from this successful seminar, the team will be following up closely with them with help from KiHi and also our MIDA contact in Korea; Mr. Mohamad Reduan, Investment Councillor cum Director. The team have dedicated a section of SBB's Precinct 1A for the possible set up of a Korean Halal Cosmetic Park.