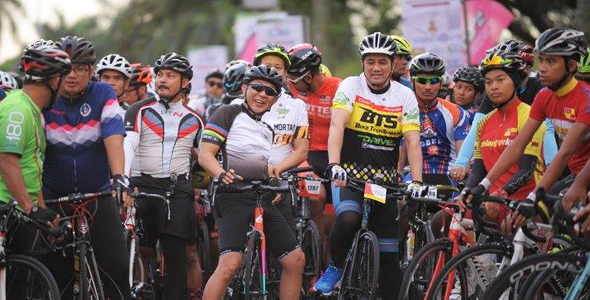 Azmin Ali Feels the Challenge and Excitement of Pulau Indah 180 2017
Menteri Besar of Selangor, YAB Dato' Seri Mohamed Azmin Ali takes the challenge to join the ride for Pulau Indah 180 cycling event. Arriving early for Subuh prayer, he is ready with a full cycling gear to join the thrill. The race starts at 7.30am after technical briefing by the technical organiser and Negaraku.
YAB Dato' Seri Mohamed Azmin Ali joins the riders through Pulau Indah Industrial Park Phase 2 and 3. The VVIP rider group later splits from the other participants together with the CSSB management team and other VVIP to continue their cycling to Laguna Park and also the area where the Selangor Bio Bay will be developed by CSSB, which is part of the aspiration of State Government of Selangor.
The riders also having their first stop at Jeti Nelayan Teluk Nipah. Here, YAB Menteri Besar took the opportunity to meet the fisherman at the jetty and having a breakfast. The team later continues the ride toward SKVE highway and Pulau Indah villages and back to CSSB office.