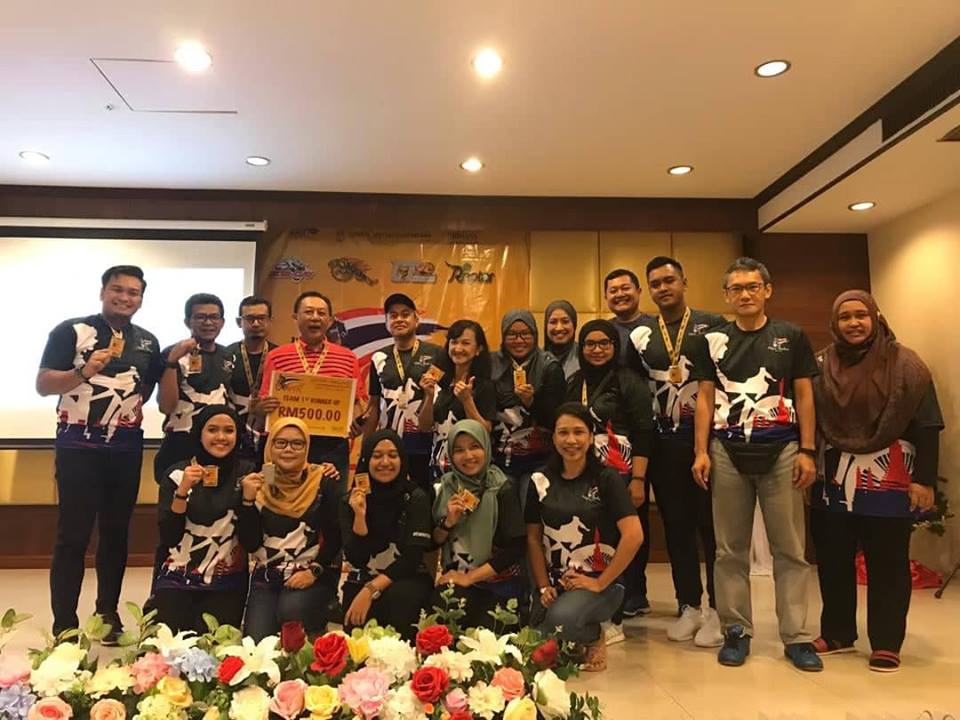 CSSB Quarter-4-Race(Q4R) in Hatyai
The RAPTORS of CSSB swooped to victory at the recent Quarter-4-Race (Q4R) held in Hatyai, Thailand on 9th December, 2018. However, the swift and agile BOBCATS were the grand-prize winners as Overall Champions for the year 2018.
Cycling is at the heart and soul of CSSB, playing an integral part of the company's culture and values that not only promotes healthy living but nurtures a vibrant and energetic competitive spirit.
Staff are divided into four teams – Jaguar, Cheetah, Bobcat and Raptor. Unless advised against participating by a medical doctor, it is compulsory for all staff to compete in the Quarter Race. Besides cycling, volleyball is also the corporate sport of CSSB where 4 teams compete twice a year.
Stars are awarded as an incentive to staff to win cash prizes as part of the winning team or as individual winners. As a combination performance on cycling and volleyball competition, the grand prize is given away at the end of the year to the Overall Champion team.
In January, CSSB organised the Pulau Indah 180, an international cycling event so there were only three, Quarter Races specifically for staff this year. Q2R was held in Gambang, Kuantan on 14th April while Q3R was at the Guthrie Corridor Expressway on 22nd September. The Q4R in Hatyai, Thailand on 9th December was the first time a Quarter Race was held outside the country.
On the morning of 8th December, all riders and officers gathered at Selangor Bio Bay Show Gallery (SBBSG) and departed for the three-day and two-night trip to Hatyai. Two buses for staff and one lorry for the bikes convoyed to Thailand.
The Q4-Race flagged off at Hatyai University for a total distance of 58 km. After the gruelling race, staff visited the Khlong Hae Floating Market in Hatyai to unwind before enjoying a sumptuous dinner and prize-giving later that night. On the way back home on the 10th of December, staff indulged in a little bit of retail therapy at Dannok before arriving at SBBSG at 11pm.
The culture of cycling first sprouted with the Central Spectrum Trailblazer off-road cycling event in 2014. Following that in 2016, 22 participants from CSSB flew to South Korea to cycle from Sanju City to Seoul covering a distance of over 400km. And the rest they say is history as the culture of cycling has become synonymous with CSSB.