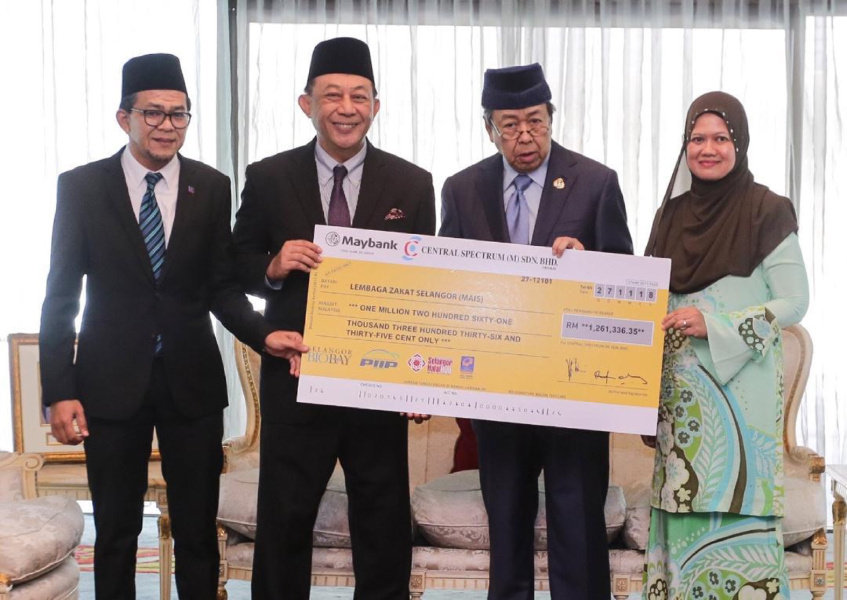 Zakat Payment Ceremony With DYMM Sultan Selangor
The Sultan of Selangor, DYMM Sultan Sharafuddin Idris Shah, received a business tithe of RM1,261,336.35 on December 4th from Central Spectrum (M) Sdn Bhd (CSSB) at Istana Bukit Kayangan.
The Managing Director of CSSB, Dato' Mahmud Abbas was at hand to present the cheque to His Royal Highness at the Zakat Payment Ceremony. Also, present were Mr Mohd Razif Bin Abdul Wahab and Madam Ruzita Binti Mohd Taib, the Senior General Manager of CSSB.
This marks the third year in a row, CSSB has been able to fulfil its zakat (tithe payment) responsibility. Last year, CSSB contributed RM1,075,118.55 in a similar ceremony with the Sultan of Selangor.
Zakat is a form of alms-giving or tax payment made annually under Islamic law on certain kinds of property and used for charitable and religious purposes. It is one of the Five Pillars of Islam and is a religious obligation for all Muslims who meet the necessary criteria of wealth as it is seen as the right of the poor to find relief from the rich.