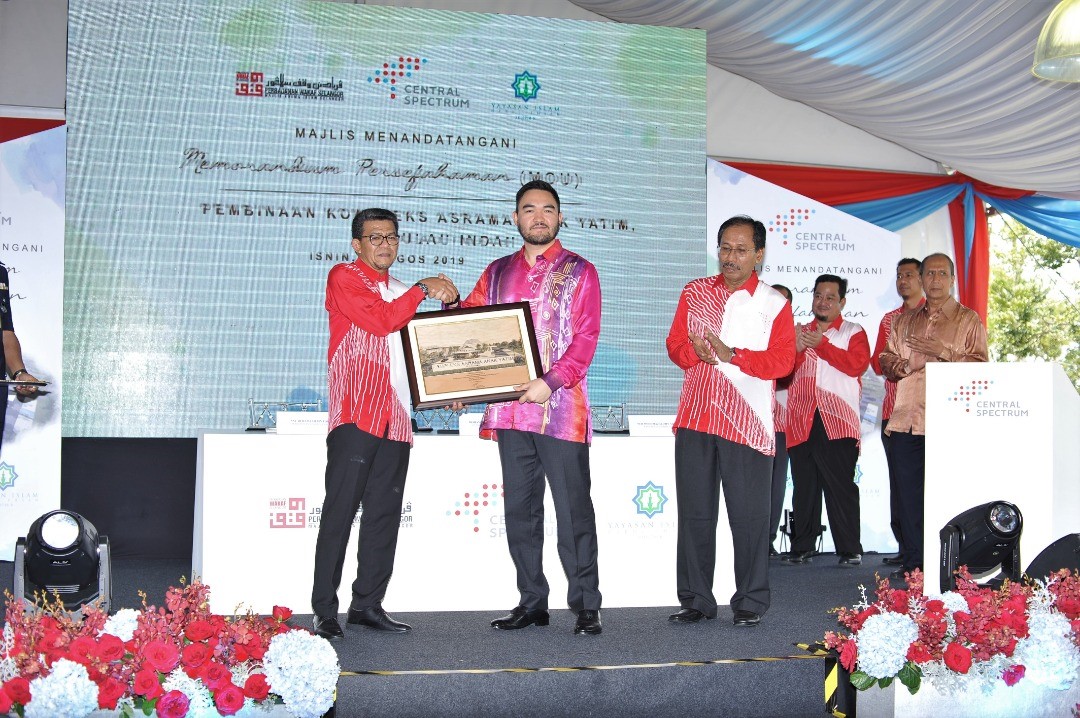 Royal Presence at MOU Signing of Pulau Indah's Orphanage Complex
On 19th August at the Selangor Bio Bay Show Gallery, Duli Yang Teramat Mulia (DYTM), Raja Muda of Selangor Tengku Amir Shah, witnessed the signing of the Memorandum of Understanding (MOU) for the construction of Pulau Indah's Orphanage Complex.
The MOU was signed by Central Spectrum (M) Sdn Bhd's Chief Executive Officer, Mohamad Razif Abdul Wahab, Acting Chief Executive Officer of the Darul Ehsan Islamic Foundation (YIDE), Nur Mohd Razali Abdullah and Deputy Chief Executive Officer of Selangor Waqf Corporation, Anuar Hamzah Tohar.
Built on 1,407 hectares of land, the complex will cost RM10 million and able to accommodate 300 orphans.
Mohamad Razif said Central Spectrum will bear RM5 million of the development cost of the complex, while the rest will be raised through donations. Central Spectrum will act as the developer and project manager to ensure its sustainability and viability.
He said two blocks of men's and women's dormitories will be constructed in phases and expected to be completed by 2021.It will include facilities such as washing rooms, study rooms and recreational areas.
An additional facility block will house the dining hall, management office and multipurpose room for student amenities.
"A sports center is also provided to facilitate the recreation of three badminton courts and one volleyball and futsal court," he added.
Mohamad Razif said the development plan provided public areas such as multipurpose halls, prayer rooms and commercial centers, thus providing additional funding for the complex.
"Architecturally, Islamic concept is applied in many components of the building, it can be seen in the use of the ventilation block as well as decorative engraving on the surplus dome," said Mohamad Razif.