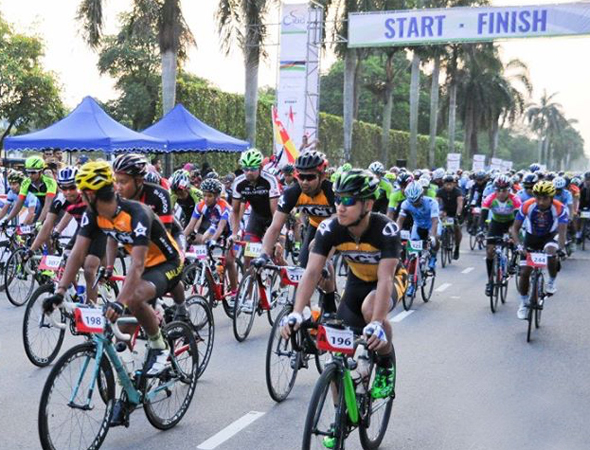 PULAU INDAH 180: Ride for Glory
About 1,000 amateur cyclists from all walks of life converged in Pulau Indah for the first ever 180km ride in conjunction with the upcoming Le Tour de Langkawi (LTdL), scheduled from 24th February to 2nd March 2016.
Pulau Indah 180 was organised by Central Spectrum (M) Sdn. Bhd. (CSSB) with the aim to break-away from the traditional short distance fun rides to build-up excitement for the fans of LTdL.
The flagging off was done at CSSB's Office at Pulau Indah, taking cyclists through
Pulau Indah Industrial Park
(PIIP),
Selangor Halal Hub
and into the Pulau Indah Highway to Banting, Jenjarom and across to Teluk Panglima Garang, Morib and Bagan Lalang. Then returning to Banting towards Sepang, Sepang International Circuit (SIC), Olak Lempit, Pandamaran and heading back to Pulau Indah Highway to finish at CSSB's at Pulau Indah which covered a distance of 180km.
There were four categories with a total of RM29,000 prize in cash ready for Men Open (18-35 years), Women Open (above 18 years), Junior Master (35-44 years) and Master (45 and above) categories. The event managed to attract local amateur cyclists as well as international participants from 17 countries.
Mahmud Abbas, CEO of CSSB who are also an avid cyclist was excited with the overwhelming response. During an interview, he said 'I am pleased with the significant turnout and trust everyone had a memorable experience. The event will not only bringing people to witness massive development in Pulau Indah but indirectly promoting Pulau Indah internationally. We look forward to welcome more visitors to Pulau Indah after this event'.
CEO of LTdL 2016, Emir Abdul Jalal was satisfied as the pre-event i.e.
Pulau Indah 180
which serves as a test run for LTdL in February 2016, was successfully organised and hope that it will become an annual gazetted event.